It's official!! My very first blog post for the
Momenta Design
team went up today! As you know, I was really excited to get the box! And it didn't disappoint!
The cardstock works really really well through my Silhouette, so I cut the whole title out of cs. For the journaling, I didn't stamp it, I just ran it all through my printer, using a really subtle piece of patterned paper.
Here's the layout:
Can you believe how tiny my son is? OMgosh! He's going to be a full blown teenager in December! Oh, so cute!!
Couple close ups: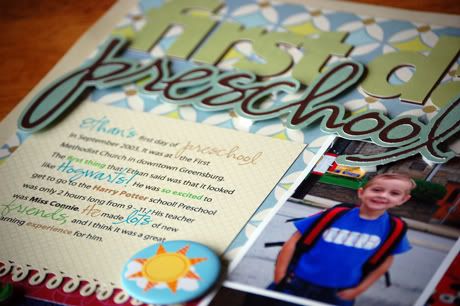 That's the journaling... yup, just used the Ali Edwards font here and there and popped some color on the font.
Ethan thought the church where he went to school, looked like Hogwarts! too cute.
And here is one of my most favorite Momenta products, these puffy stickers! Isn't this robot to die for? Had to use him!!
In other news, I was very, very, VERY bad today! LOL! I went to Joanne's on a punch mission! Thankfully, all the punches were 40% off, except the Martha Stewart one, called Cherish, but, I had to get it! Love it. I also purchased the one that makes your stuff look like it was torn from a page, the ek success edge punch... I'm sure I'm the last person on the planet not owning one! I also got a basic star shape... even tho I have the Slice, I wasn't getting the right star. I can't wait to go play.
Hope everyone had a great week, and a better weekend. The weather here is just perfect today, can't complain!!
Have a great day!!