I hope you all had a wonderful Christmas, or holiday. We visited with family on Christmas and yesterday. My kids got to play with their cousin Bobby who lives in Virginia. He and Ethan even got to snowboard a little.
Everyone was very happy with what they got for Christmas. It was an electronic sort of Christmas for us. Ethan got his Flip camera to video skateboarding stuff, Emma got her purple iPod Nana, Daddy got a GPS for the car (he just loves his new toy, I did good!) and I got an iPod Touch. I love that thing. I figured out yesterday how to get my email on it, so that's way cool for when I'm out of the office. Plus, of course, all the fun "apps".
Here's a layout I did a while back. These photos were taken the second day we had Pearl. She was sooo happy. I submitted the layout to CK and SBetc, but it didn't get picked up. It was super quick to do. I put the title right on the photo in photoshop. I placed all the photos on an 8 1/2 x 11 sheet and printed it out, then just cut it in half. The paper is Sassafras. The shaped journal card is My Little Shoebox.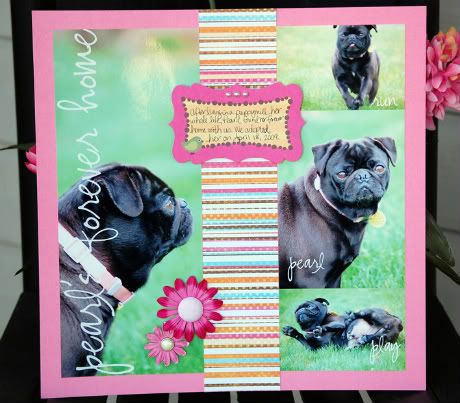 Here's a close up of the flowers, they're Prima, the cloth brad is Little Yellow Bicycle.
And in this close up on the journaling card, I added some Creative Charms Pearl Stickers.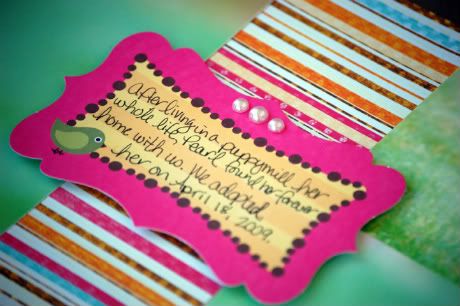 Speaking of
Creative Charms
, I was sent a package with some of their new CHA winter lines coming out. I love the gradient brads. I'm working on their new catalog for CHA, it's a tight deadline, and I'm still waiting on some new products to be shipped. But, it's always fun to do.
You can now order the Creative Charms goodies at
Addicted to Scrapbooking
. Check it out, lots of embellishments. My favorites are the crocheted flowers, felt embellies and their gradient jewel and pearl stickers. Oh, I almost forgot, their vintage brads are to die for!! I don't think Addicted to Scrapping carries the vintage brads yet, but we just started with them, so look for those to be added.
Hope you have a great week. I want to get scrappy at some point this week. I have some new goodies that I ordered, and haven't even touched. AND I picked up a new Martha Stewart punch at Mikes on Sunday. Now that the busy holidays are over I hope I can get to play.
Hope

you

have

a

scrappy

day!!