There was a thread this morning on one of the message boards I frequent about not seeing anything good this time around for the winter CHA releases...
I beg to differ
. I just love a lot of what I see! Sometimes, I wish I had a scrapbook store, just so I could house all this paper. Even if I didn't use it, I could look at it, touch it.... yeah, you know what I'm talking about.
Wake up and smell the paper girls!
There is some BEAUTIFUL scrap goodies to behold!!
Let me just show you this Pebbles Inc line called "So Tweet"...
Tell me those little birds aren't the cutest?? I just ordered some from
Ally Scraps
. I can't wait to get my order in my hands so I can play with it! This line screams spring to me.
You don't like whimsical birdies? Well, then maybe something more classic is your style... how about this? This company is new to me. Just read about it in CK. They're called
GCD Studios
. They have some elegant paper lines. This sheet is from their Paris Nights line... would be great in my "Pink & Black Parisian" style scrap room!!
Those are my 2 Friday picks today. I have no idea where to get the GCD Studios paper, but they have a lot of stuff to chose from.
I also wanted to share my second layout for my DT submission. For this layout, we had to do a layout based on a sketch that
Debbie Gaydos
provided.
Here's the sketch:
And, here's my layout. I used the
DCWV Greenstack
. It's just so fun!!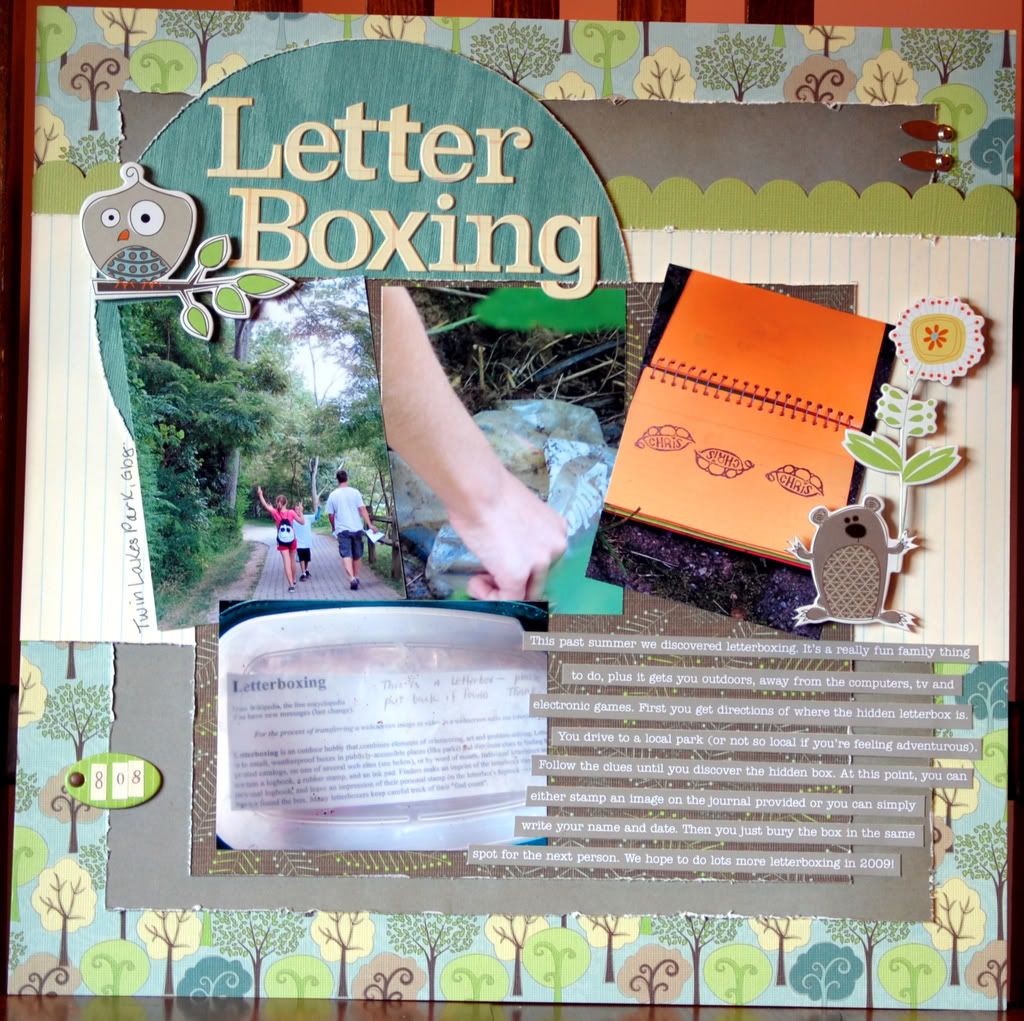 And, a closeup... I used foam dots on the owl.
The bottom photo in my layout is of the letter box that we found. It's really fun to go letterboxing. If you haven't ever heard of it, look
here
for info.
(All of Debbie's fabulous sketches are in the
Ally Scraps Gallery
or on the
Ally Scraps blog
, so if you need a kick start for a layout idea, jump on over.)
Speaking of the Ally Scraps blog... being on the design team I am required to post on the blog every so often. My first blog post will be March 3. So, check back on Tuesday!!
My last 2 layouts are like polar opposites of each other. I always feel like I don't have a "style". Now, whether that's good or bad, I don't know. I know it's been good in my graphic design career, because every client is different, and I am able to adapt to their style. FedEx doesn't want their driving manual to have flowery things on it, but, the ad for the baby wing in the hospital needs some cuteness. I'm a chameleon of scrapbooking, eclectic, adaptable. I like to try different things. I guess that's why I have such a varied taste in paper. I love them all!!
Have a great weekend!
Happy Scrapping!!