Punxsutawney Phil saw his shadow today.... it's official 6 more weeks of winter. LOL! Darn groundhog! ;)
We had quite a scare on Thursday with Matt's dad. He went to the ER and they discovered he has congestive heart failure. It's not good, but it does sound way worse than it is.... what I mean is, people can live a long, long time with it. It is a condition in which the
heart
can't pump enough blood to the body's other organs. His feet were swelling and his stomach. He had a lot of fluid. I'm glad that his wife Barbara insisted that he go to the ER. He didn't want to, he knew they'd make him stay, and he didn't want to miss the Superbowl.
We went to see him on Saturday. He looked pretty good. They let him out on Sunday, and he was able to enjoy the Superbowl at home. What can I say, Pittsburgh Steeler fans are a bit fanatical! Willing to risk life and limb to see them play!
And what a nailbiter it was! Here are my boys.... they both look so nervous.
It was a fun game. So glad that the Steelers won, 'cause I have a happy hubby, and that's all that matters in my house! LOL!!
I managed to do a layout and also this mini accordion album. My friend Theresa has 6 girls. Yes, 6 girls. They are 11, 9, 7, 3 and 1 year old twins! They're all so cute. I thought she could put this on her desk while she homeschools them all!
I took my camera up and took lots of pictures of her kids. It was fun. I just LOVE the babies. So cute. They're at the fun stage, starting to walk, getting into everything... did I say fun stage? LOL!
Close up of the cover: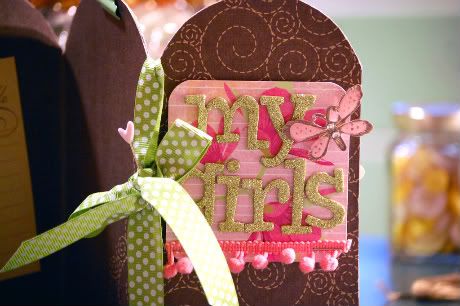 Front side shot. I left a blank journaling card so she could write some things on it: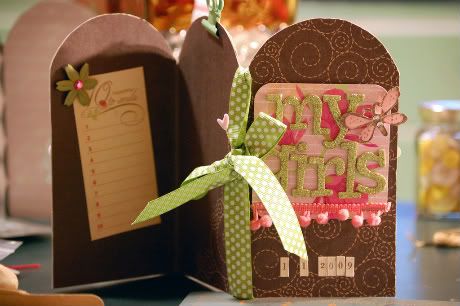 The inside with all her adorable girls: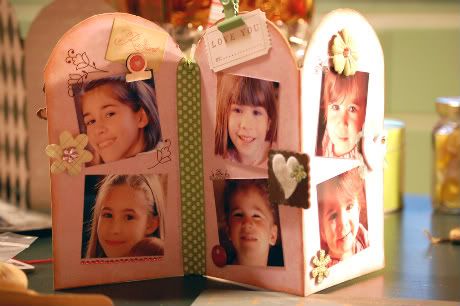 A close up of the babies:
And, here's a closeup of the ticket.
That's it for now.
I need to work on my
Project 365
album. If I do these last 2 weeks, I'll be caught up. I can't believe I've stuck with it this long!
Have a great week!!
Blog ya later!