Yesterday, I got to meet
Debbie Gaydos
!! Debbie is a fellow
Ally Scraps
DT member and only lives about 40 minutes away from me. We met at Panera Bread and chatted over some frothy beverages and bakery goodies. While there, a friend of mine who just happened to be there, snapped a photo of us. After that we headed out to a local LSS, since it's been a while since Deb was out this way. (Hi Midori!)
Here we are at Panera. I had such a fun time yesterday with Debbie, hope we can do it again soon!!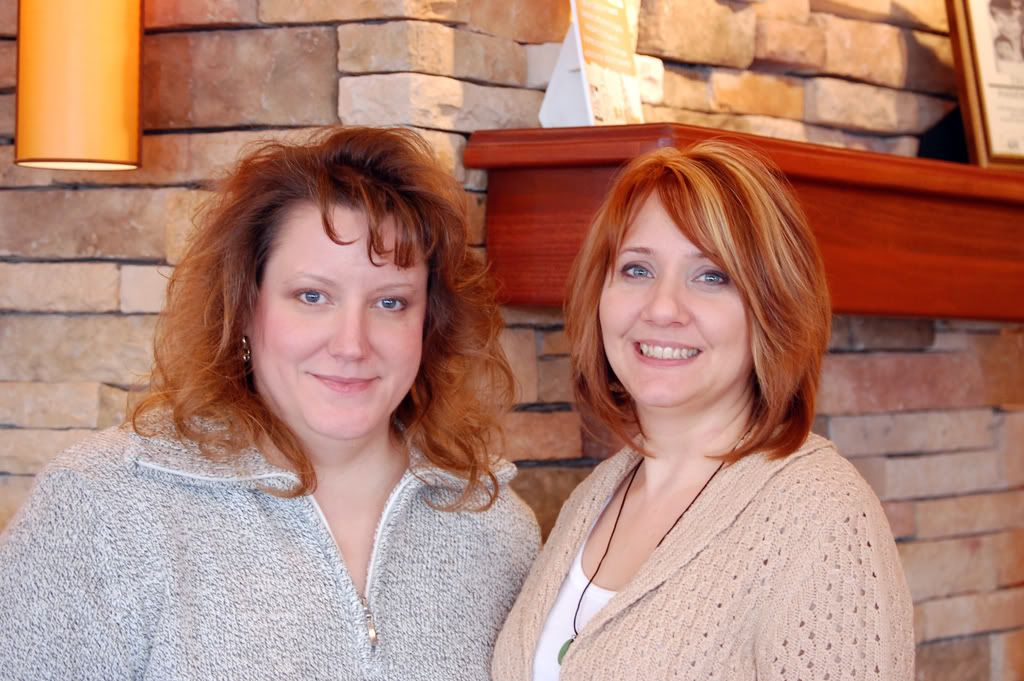 This morning I stopped at Marshalls to look for ledge type shelves for my scraproom. I didn't find any shelves, but I did find this sweet wire dress form! I walked by it... tried to resist "her" allure, but she kept calling my name, and I just had to take her home.
I promptly put her in my scraproom and dressed her up in my ribbons. Doesn't she look purdy?
Here's another shot of my scrap room... it's not finished yet, but, it's getting there. I love my little oasis.
I put up the chandelier today. I'm not sure about that circa 1970's sewing machine... but that will have to do for now. I'd love a new souped up model that doesn't weigh 100 pounds!
As you can see, there's a project sitting on my desk, some Webster's paper and a vintage photo of my mama. It's scrappin' time.
Have a

scrappy

weekend!!