Two posts in a row!
"I know, right?" as my 12 year old daughter would say.
I did this layout about 2 weeks ago, and I had such fun doing it. Got out the paints and some super old stickers and went to town.
I did this layout because I don't have any scrapbook pages of my dad in a current photo. I snapped this photo on his last birthday doing what he loves to do, crossword puzzles.
My layout started with the puzzle idea, finding that
Sassafras Lass
puzzle paper then I thought of the Joker on Batman with his big question mark on his shirt... so I thought random question marks w/ different fonts would look cool. But, not just stuck on, and that's when I thought of doing a mask.
Mask Sticker Technique:
Step one
Find some stickers, I used these old American Crafts remarks stickers. I had plenty of question marks. Any shaped sticker will do, stars, circles, squiggles, as long as it is a "sticker".
Rub ons do not work for this technique.
Step Two
Place your stickers down where you would like them to go. These will create your "mask". If your letters are super sticky, you can put them on your shirt to pick up some fibers so that when you stick them to your layout it won't tear when you lift them off.
(Remember, rub ons do not work for this technique.)
(Remove everything else before you paint... I didn't want to put my mask/s down then cover up all the masking work with photos, so I just put the photos and my paper on for placement.)
Step Three
Slap some paint over the mask. You can be as neat or as messy as you want to. (obviously, I went for the messy look!)
Step 4
Once the paint has set, you can take a craft knife and lift a corner to peel off your stickers. You don't have to wait until your paint is completely dry, just dry to the touch is fine.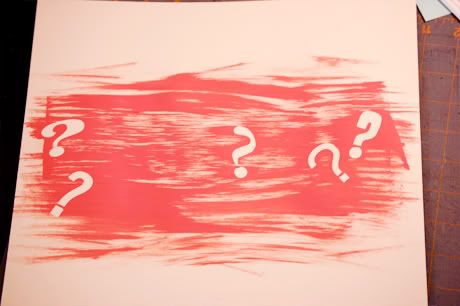 Once the paint is completely dry, you can start on your layout or card or other project that you want to use a mask technique on.
Here's my finished layout: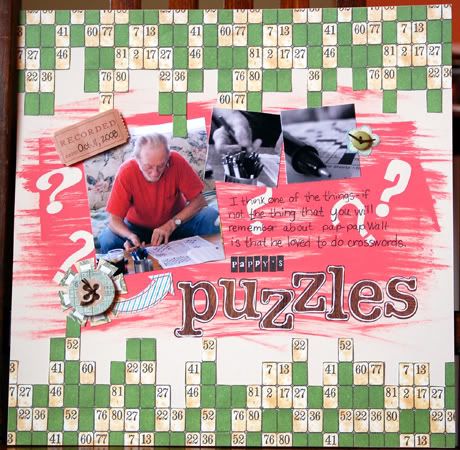 Now, the challenge part
Every month on the
Ally Scraps message board
we host several challenges. Each challenge gets your name put into a drawing at the end of the month for a $10 gift certificate to the
Ally Scraps store
. This is
my challenge
, I challenge you to break out some paint (or that glimmer mist you haven't used yet) and try a masking technique on a layout or card. Hope you'll join in on the fun.
(Challenge is due 4/13 by midnight.

Must not be used with any other offer. Valid only on Ally Scraps. Subject is subject to loud outbursts for no apparent reason. Must be over 85 to play. Yadda yadda ya. Just joking.

)
Have a

creative day!!