I have been dying to get my hands on some Sassafras Lass paper. It's so adorable. There isn't any in my LSS or even when I travel to the big store in Butler. However, I was able to order some from Ally Scraps. Yippee. It was the first paper I picked up to play with this weekend.

I took these pictures of the kids at the Cracker Barrel store while we were waiting for a seat. The little sock monkey and the jack-in-the-box we're so cute. I personally, never had a sock monkey when I was little, but my cousins did. I did have a Raggedy Ann and Andy doll. Plus a Barbie Doll... she was my favorite. Barbie is 50 years old this year!! My favorite was the Malibu Barbie and I also had one that had wires in her hair and you could curl it with this teeny tiny little curling iron.

Anyway, I digress. Here's the layout I did using the Sass-Lass paper.



A couple of close ups: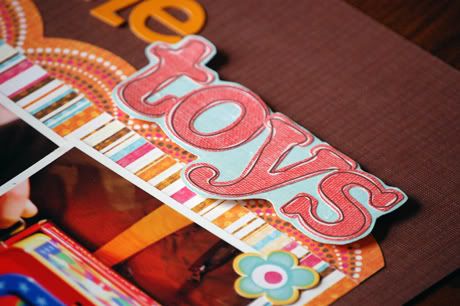 The Sassafras line Sunshine Lollipop was perfect for these pictures.

Striped paper is Sassafras Lass Sunshine Lollipop Collection 12x12 Paper Sprinkled
Flowered Paper is Sassafras Lass Sunshine Lollipop Collection 12x12 Paper Gum Drop
Top scalloped edge is cut from the Sassafras Lass Sunshine Lollipop Collection 12x12 Paper Buttercream Sheet Cloud Sticker, heart & flowers from Sassafras Lass 6x12 Sticker Sweet Treats Sunshine Lollipop

Font - toys is Sassafras Lass Hog Heaven Collection 12x12 Monograms and old time is American Crafts Vinyl Thickers - Sprinkles Orange

The flowers are from Creative Charms, the catalog I did. She sent me a bunch of flower embellies.

Thursday, Emma had her MusArts show. They had crafts, and the band... the band was really, really good... I mean, these kids were from 11-14 in the band... they were very impressive. They have a really cool teacher, Mr. Miller, who let them play Sandman by Metallica. The kids wrote their own notes out to play it. I guess the song isn't published yet, so the kids had to figure it all out. What a great way to learn music.

Emma is in Art Club, and she helped paint the "American Gothic" painting. Then she manned the station to collect the money for the pictures. Matt and I didn't stick our heads thru, but our neighbors did! LOL!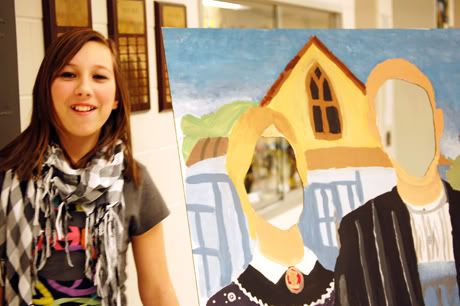 Did you Spring Forward this weekend? I guess it will stay light longer. I don't get the whole time change thing... why don't they just split it in the middle and call it a day.

Have a

wonderful week.