I just had to do a layout of my son when he was a fat chubby baby, since I had just shared the one of my daughter. Oh my, was he FAT! Look at those cheeks!! They swallowed his chin! LOL!
This is all Sassafras Lass that I got in my goody box from
Ally Scraps
the other day! Mmm, I'm loving my Sass Lass lately!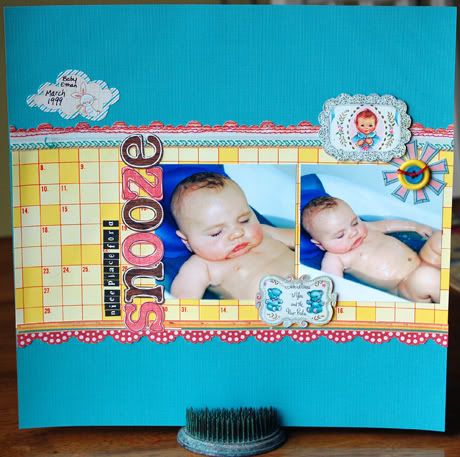 Couple close ups: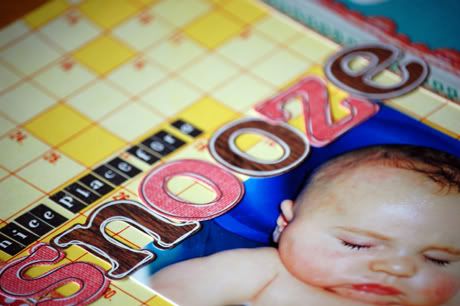 (journaling says "nice place for a snooze")
On this layout, I didn't use a lot of embellishments, which is sort of unusual for me.... but, I thought that it didn't need a lot.
The Sassafras Lass paper is from the Vintage Yummy collection. I used
Pleasantly Puzzled
and
Remember Me
. I also used the
Vintage Yummy Stickers
and the bunny sticker is from the
Woodland Whimsy collection
. The letters are Sassafras Lass, too, the pink are called from the
Heaven Collection
and the brown are from the
Fawnd of You Too Collection
. Black letters are
Making Memories tiny alphas in black
. Love those.
The Ally Scraps store has lots of Sassafras Lass. Go check it out.... she ships super fast, too!
We had a quiet weekend. It was nice on Saturday and we got up early, went for coffee at Starbucks and breakfast at Sonic. The Sonic here just opened last Monday. I had a egg, ham, cheese sandwich. It was OK, I think I prefer McDonalds... shhhhh. It's hard to eat fast food breakfast when your kid has allergies. He can't eat eggs, milk, or peanut. Not that peanut is a breakfast food, I just thought I'd share the trifecta of allergies that he has. He can tolerate small amounts of milk and egg in baked goods. Thankfully, he is outgrowing some of it. Notice how his cheeks are super red in the picture on the layout? That is a rash from his allergies... poor baby, looked like he had teen acne for the first few months of his life until we figured out that everything I ate, he was eating... and those PB and J sandwiches I was scrafing down at lunch time just wasn't good for him.
We've come a long way.
Anyway, I digress, are you still with me? I usually don't ramble as much. Ethan was able to eat the tater tots and french toast sticks at Sonic, so all was good.
Thank you all so much for your lovely comments on my Making Memories pub. I'm pretty excited. I really don't submit too often. I like to share here too much! ;)
Have a
creative day!!