Fun Find....
We have a little "junk" store as my husband calls it, here in town. I love looking thru the stuff, but, he doesn't have the patience. Well, the other day, after going to the post office, I talked him into checking out the junk store. They had these cool old milk carriers. So, I got one! It's a great size for packages and it has 4 compartments. I think it will look cool in my scraproom.
Incidentally, we found the chair at the same "junk" store... 2 of them as a matter of fact. I painted them black and they sit on my front porch.
Friday Favorite...
Here's what I found today, and it's not even out yet, but I can't wait... it's sooooo cute. It's the new Cosmo Cricket, and I really, really hope that
Ally Scraps
has it on order, that would be cool.
I'm lovin' that little toaster!! More stuff on the
Cosmo Cricket
site.
Ethan had a birthday sleep over, so I made his buddy a card. I used some of the left over
Bo Bunny Grease Monkey
paper I had used on the layout from yesterday. I actually like how the card turned out better than the layout.... I still think that layout needs something.
Close up:
And, the inside, because no one ever shows you what they put on the inside, and I always wonder...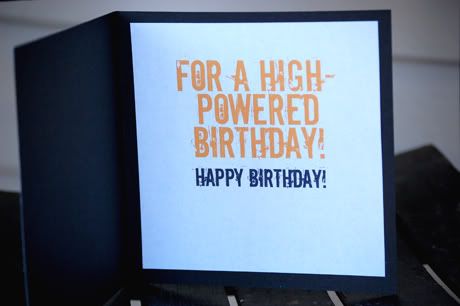 Have a great weekend.
I'm off to get some sushi.... mmmmm.