(this is a long story on how we adopted Pearl, so if don't want to read it, just skip down to the end to see a picture and a project.)
We had a wonderful weekend.
We adopted a pug!!
It was quite grueling. I was on pins and needles for a few hours. I just can't imagine how it must feel to adopt a child. It must be excruciating... the wondering, the waiting....
I always go on
Petfinder.com
to see if there are any Pugs or Boxers or Boston Terriers or Pekingese (we like the smashed in face doggies!). Low and behold there was a female black pug. She was rescued from a puppy mill. (Puppy mill = bad). The only way to adopt her was to go to Pet Smart on Saturday between 12 - 6. The shelter is being renovated, and they can't do adoptions there.
On Saturday morning I woke up and got dressed super fast! The whole family jumped in the car and we went to Pet Smart. We were there really early, 11:15 or so. We hung around, looked at dog stuff... then Matt said the van was pulling up. I tell you, I was like a rescue stalker! They pulled in and then started setting up. They wouldn't let us see the dogs until noon. So, we hung around. Let me tell you, my kids were real troopers that day. At 12:20, she still hadn't let anyone in. Starting to get a little frustrated.
THEN another woman wants the pug! OMG noooooooo. But, she was just looking, so I told her all about pugs... how they shed twice a year, six months at a time, how they can get pug dog encyphilitis. I think that if you want to get a dog, you should not only know about dogs, but what the breed has in store for you. Each breed has specific needs. Pugs are
brachycephalic
, having the short snouts makes it hard to breath, and they can't be in hot weather.
FINALLY, I got to see Buttons, the black pug. I immediately asked if I could fill out the adoption papers. She handed me the papers and I began to fill them out. My kids and DH got to take the pug out and play with her. She is a sweetie.
After the papers were filled out, we had to get interviewed. When I initially heard that someone else had already filled out papers before us on her, I almost cried. During the interview, things took a turn... I told the lady that I used to be the past president of SPPR (the now defunct Southwestern Pennsylvania Pug Rescue) and that I knew Patti, who changed the name to Guardian Angel Pug Rescue. Well, the adoption lady's (BARB) eyes lit up... she knows Patti (everyone knows Patti Pug around here!). I knew right then I was a shoe in.
We had to leave, so she could call our vet and make a decision... by now it was 2 PM. My son kept asking me why we couldn't just take her. It's hard to explain to a kid the process, so I just said the lady has to pick us and make sure we're the right fit.
We went to lunch, then picked up some groceries, then went home. YIPPEE, there was a message from Barb.... she wasn't able to get a vet reference, but she said Patti would do. So, I called her back, gave her Patti's phone number and waited some more.
At 4:40 Barb called us back and said we got the pug. Patti had given us a "glowing review". They were there until 7 and we could come by any time. I told her we were pretty anxious, so we left right after I hung up.
Meet
Pearl
Buttons. I kept the name the shelter gave her as her middle name. Pearl seems to fit her better... because she's a gem (awww).
She is the sweetest, happiest little thing. After living her first few years in a cage under horrible conditions, it is amazing that she is so well adjusted. She seems to be house trained. She hasn't had any accidents. She gets along well with our big dog Sophie. They play tug, and Sophie is so gentle with her. It's cute.
Pearl no longer has a crummy life. She will be spoiled and loved by us.
Save a life! Adopt from a shelter!!
OK, phew, long post eh?
I also scrapped a page!! After all that waiting and wondering, it was relaxing to go up into my scraproom and create something. Pearl was pooped and needed rest, so it was a perfect time to play with scrap goodies.
More cool Bo Bunny boy paper... it's from their line called "U Bug Me." Great for boys.
Flowers on a boy page? Sure, why not.
The paper I cut the wave from is the
Bo Bunny U Bug Me OUTDOORS
. It is also the plaid paper, it's double sided. The orange paper with stars is from the same line, also double sided and called
stripe
... there's a nice striped pattern on the other side. I can use that for another boy layout. The journaling card is from the same line and comes on a 12x12 sheet of double sided cardstock
cutouts
.
Ally Scraps
also carries the rubons, letter stickers and other cool boy papers in this line.
The letters are thickers. Here are a couple close ups: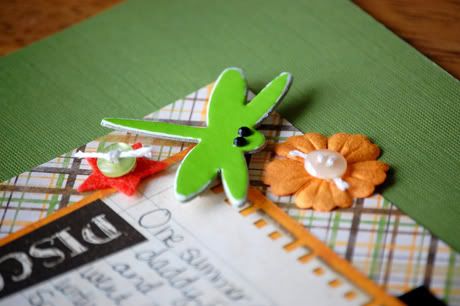 Well, that's it for today. And if you stuck with me, and read the Pearl story, you are to be commended! And I'll even offer up a RAK. I've been so blessed lately, I'd like to share my good fortune with you. Just leave a comment and I'll pick a winner on Friday.
Happy
Earth
Day!
(you can purchase the above illustration

(done by my talented hubby)

here.)