It's still officially Mother's Day... at least here on the east coast, we have 15 more minutes. Hope all you mommies out there had a wonderful day. I had a pretty nice day. Ethan gave me some little herb plants and a cute hat card. Emma made me a flower from tissue paper and a poem. I got a card and flowers from Matt (and the early present of the Pixie sewing machine). We also went to the Grand Concourse in Pittsburgh to eat with the inlaws. Beautiful place. Great food, albeit a bit early for me to eat... I'm not a breakfast eating kind of person, just give me coffee. The only reservation was at 9:45 am. (yeah, a tad early!!)
Poor Ethan got sick on the way, and we had to pull over on the Pennsylvania turnpike. We called the grandparents, to let them know... it's kind of hard to turn around to go home when you're on the turnpike, so we waited to see how he was doing once we got to the exit. He seemed better, so we went ahead to the restaurant. He managed to eat a fair amount. He also spiked a fever, but once we were at Matt's dad's house, I gave him some Advil and he felt better. I think he'll be staying home from school tomorrow.
Here are my 2 babies! They made me a mommy! Sweet kids. Wouldn't trade 'em for the world!!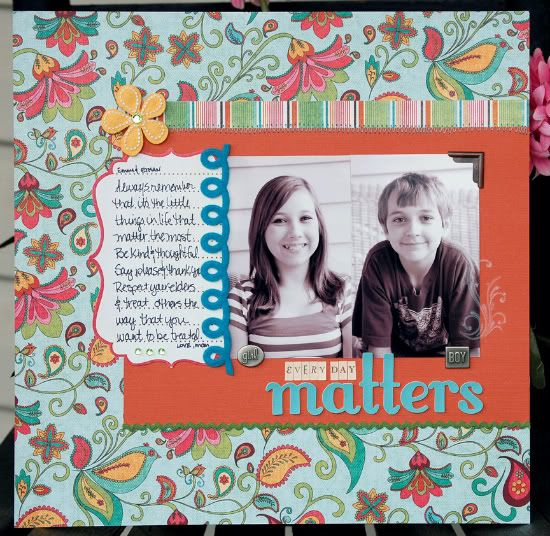 This was my layout challenge for the Ally Scraps crop. It was the Interpretive Design Challenge. I hope it wasn't too difficult. The idea was to pick up design elements from a home interior photo...
The paper I found was perfect... almost identical to the comforter. Both patterns are from the
My Minds Eye Bloom & Grow
line. I used a burnt orange card Bazzill stock to pick up the color in the curtains, some metal embellishments from the lamp, and the off white
MME bloom & grow journaling card
from the furniture.
There's more detailed explanation in my challenge post
here
if you care to read it.
On Saturday Matt ran out to get a few things and Ethan and I were just sitting around the house. I was on Pearl watch... our new rescue pug... this poor dog will not pee. I've been looking to see if she's going in the house but haven't found anything. She just holds it forever. I don't know if it's because she was in a cage all the time in her previous life or what. So, on Saturday, I took her out the front door to try again, and turned around and there was a USPS package on my front porch by the door. I couldn't figure out who sent me what, and I hadn't placed an order. I picked it up and here I won a prize from 2 Peas from NSD! How cool is that? I didn't even know I won. It was a Basic Grey Lime Rickey card kit. It's cute.
Well, it's officially tomorrow.
Hope you had a great day Mom's Day!!


Miss you mom!
(My mom & me, 1968!)