Because, what have you got to lose? So, fess up, how many of you have seen Star Trek?
No?
You haven't seen it yet?
Well, besides the
awesome story line
, the
spectacular special effects
and
edge of your seat fight scenes
... how about this reason....
Oh yeah! Meet Captain James Tiberious Kirk, aka Chris Pine... soooo easy on the eyes!
Spock, aka Sylar from Heroes, aka Zachary Quinto shares a steamy kiss with Uhura. Great movie!! You must see it... then, you must collect these...
I got all four (obviously, duh, I took a picture of them! LOL!)... so it's official, I'm a dork!
Besides being a dork, and watching scifi movies, I also dabble in scrapbooking occasionally. Here's a layout I did using the new
Bo Bunny Abby Road papers
I got from
Ally Scraps
... aren't they gorgeous? Double sided, too.
I used the
Abby Road sticker sheet
for the big swirls and the border swirls. They were really easy to work with, not turning in on themselves and sticking together. The bigger font is
American Crafts Puffy Stickers - Umbrella - Cricket
(that's green) and the blue font that I layered on top is
Doodlebug Design - Loopy Letters.

Here are a couple of close ups for your enjoyment...;)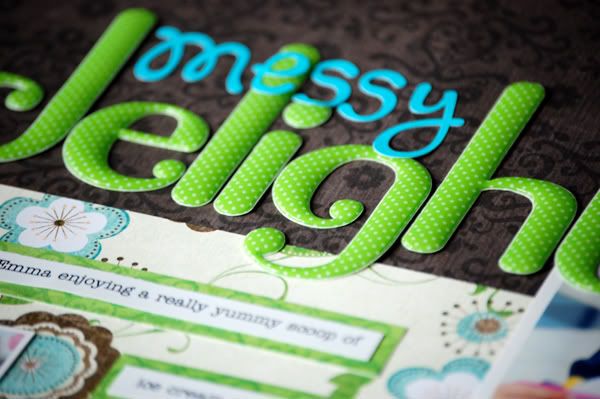 This layout is my new favorite. Just love the photos of Emma at 18 months. I can't believe she will be 13 in a few months. YIKES!



That's it for now...

remember to release your inner dork...

live long and prosper!