Last week, I went downtown to run some errands. I stopped at the Art Supply store and chatted with the owner, bought some pencil lead for Ethan and some Japanese erasers for Emma (they're all the rage). Then, I went to the post office to check on my business mail. What a nice surprise that day was! In my p.o. box was another copy of the Memory Makers magazine that I had my first pub in. It was from a nice lady named Cindy. She gave me her copy... how sweet is that? So, I just wanted to send a great big
THANK YOU to Cindy!!
That was so thoughtful. You can visit her blog,
here
. She's a fellow scrapper!
I also wanted to share with you a layout I finished up the other day. I used the new
Webster's Pages
that I got with my monthly DT package from
Ally Scraps
. The blue cardstock didn't match exactly, but I used it anyway... don't you wish you had 24 hour access to a Bazzill store? I could get just the right shade. The color I had on hand was pretty close, though... it almost matches the flowers.
Couple close ups...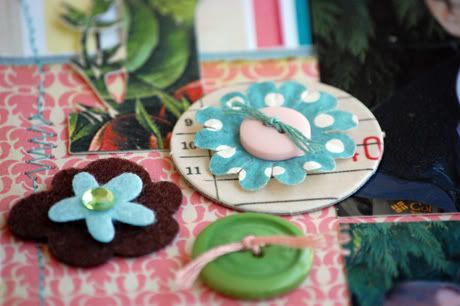 My little baby girl (ok, she's in 7th grade... but still, she's my baby!) is staying after school today for the after school dance. I can't even take pictures. :( She didn't want to go to the Christmas dance because that would have required her wearing a dress.... I hope she changes her mind in 8th grade and goes and wears a dress. 6th graders aren't allowed to go. I guess that's a good policy. I wish that 6th grade was still elementary school, but in our district, they go to middle school. Today was also her science test... I helped her study for 2 days. She studied hard, I hope she does well. Middle school is hard!
I'm off to purchase 2 new office chairs that match and that are comfortable. And some ink, then I can print out photos.
Have a great day!!
Blog ya later!!
;)