Did you ever have one of those weeks where you have so much to do yet accomplished absolutely nothing? Well, that was my week. I felt really busy, but when I look back, not much done. I still have TONS of weeds to pull, plant flowers, mulch to buy, floors to scrub, laundry to wash, bills to pay, clothes to put away, groceries to buy.... sigh... it's a vicious circle I tell you! Not to mention, the car is making a clonky noise... yee gads!
The fact that the kids were off Thursday and Friday threw a wrench into the works. Thursday was the school picnic, but it poured most of the day. Friday was a recoop day from the picnic, but they officially called it an "Act 80" day. We also got baseball tickets from a client for Thursday nights baseball game. It cleared up around 5, so we decided to at least do that. After being cooped up all day the kids needed to do something. We drove to downtown Pittsburgh and parked in town so we could walk across the Roberto Clemente bridge (used to be the Sixth Street Bridge). Matt picked that game because his cousin Khalil Greene plays for the Cardinals, but they didn't play him that night. We had awesome seats, they were about 20 rows back from first base. I hope she gives us more tickets!! ;)
I did manage to get some great shots. I'll share a few here.
Here's the Pirate Parrot shooting silly string at the guy in the row in front of us. It was so funny. Ethan took all the string and made a ball out of it.
Photo of Khalil from behind, he was in the dugout.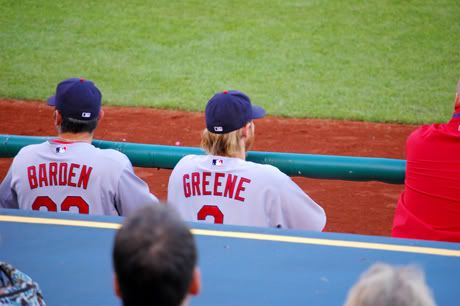 Kids sitting on the bridge. On baseball game days, they close the bridge to vehicle traffic so you can walk right in the middle of the bridge. We parked in town so we could walk over it. Ethan is fascinated with bridges, so we figured he'd get a kick out of it: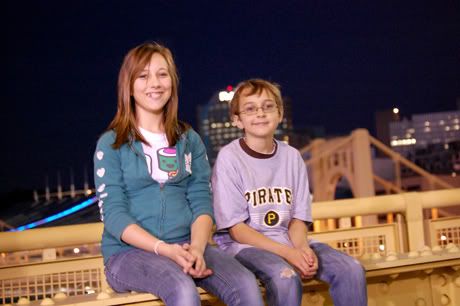 View of the PNC Park from across the river: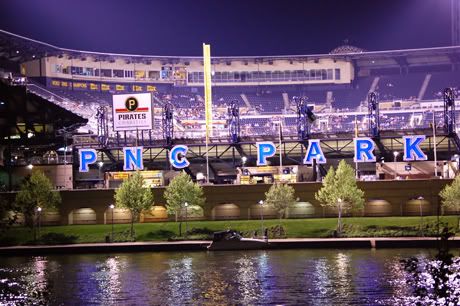 Yesterday, we went to see the Star Trek movie. It was AWESOME!! We saw it in iMax, even though it's not an iMax movie, the screen was really huge and during some scenes I felt like I was in the movie. Loved it! They did a great job with all the characters. Leonard Nemoy is in it, too, but I'm not going to tell you who he plays!
Do you have have grungeboard? I do, but never have done anything with it. Yep, it's been sitting in my stash for nearly a year... OK, actually, it has been a year! LOL! I bought it at the CKMB crop in Lancaster at the Craft and Flower Warehouse.
Anyway, I was looking thru a catalog, and these framed vintage looking keys caught my eye. Wow, they would look great in my scraproom, but with a price tag of $39.99 + shipping, fagettaboutit!
Instead, I made them! With grungeboard keys! I am so happy with the results!! Here's one:
I made 3 all together, then hung them on my wall. They look soooo nice. Total project cost? $5!
I have all the details on the
Ally Scraps
blog, plus the paper I used. Pop on over and take a peek.
That's it for now for I have weeds to pull,

flowers to plant,

mulch to buy,

floors to scrub,

laundry to wash.........