For June's
Ally Scraps Reveal
, we got to pick a favorite layout that we did. This was my favorite. I love the warm colors in these
We Are Memory Keepers
papers. They are from the Grandma's Kitchen line, I used
Paisley
,
Pen Pals
, and
Flower Frenzy
. Check out the other great dt LO's
here
.
Couple closeups: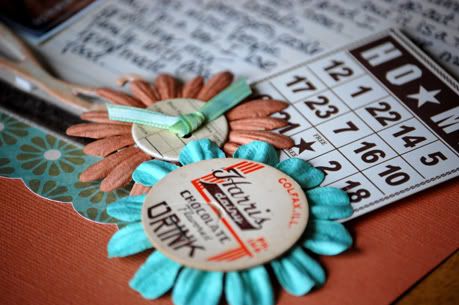 (I love the vintage chocolate milk caps I got from ebay!!)
I could have easily turned this layout into a mini-book, I had so much to say about my idea of not only home cooked meals, but the whole concept of eating together as a family. That's one thing we do every night, we eat dinner together. We turn the tv off, and sit in the kitchen and enjoy a meal together. Even if the kids complain that I made rice and Ethan doesn't like rice, or I made corn, and Emma wanted green beans, I'm still happy that we are all here, sitting together as a family. I'm not saying that there aren't some days that we'll run out and grab a burger, because there are. Or, when the kids have after school activities, we might be rushed, but normally, we have dinner at home.
I don't think dinner together has to be totally from scratch homemade stuff every night. We like to cook and enjoy baking and making things from scratch, but sometimes, we just don't feel like it or there isn't a lot of time, and I need to get dinner on the table in 15 minutes... hello Ragu! I just think the being together part is the most important.
We just had a deck built last Wednesday. They actually finished it up on Thursday. We are loving it so much. We've been eating outside a lot. It's sooo very nice. Saturday night we had dinner, then played cards. I love not plopping in front of the tv. It's great to finally be able to enjoy the back yard. We've put a lot of trees and plants in, so now, I can sit and enjoy. I can put the puppies on the deck with me, we have a gate, so they can enjoy the fresh air, too.
Here's where our summer vacation will be spent! LOL!
We have since added the grill and Matt put some pavers in front of the steps. Eventually, we'll put in some plants around the deck.
And the deck dogs: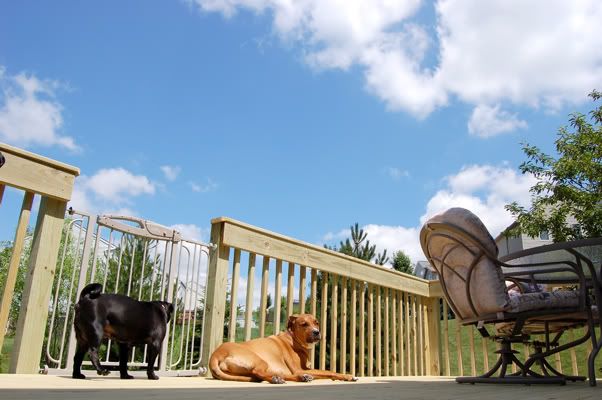 That's it for today.
Hope you are enjoying your summer!