Happy Thursday! We are going to Matt's dad's today to celebrate his father's 82nd birthday. Matt is the baby of the family. (Just sayin', so you don't think we're
that
old!) His dad could have been my mom's dad!! LOL! Should be lots of photo ops. I made the cutest card for him, if I do say so myself, but I haven't gotten it off of the camera yet. I used the DCWV Green Stack... this is the first stack that I really love... and I'm not a stack kinda girl! ;)
Over on the Ally Scraps board where I'm on the design team, Morag and I are starting up a Book of Me challenge. Every other week we will provide a prompt for you to design a page to go into your Book of Me. I've never done one, so I'm quite excited. This weeks prompt was "The Bucket List"... things you'd like to do before you kick the bucket. I'd love it if you would come and join us. All the prompts (there are 15 from last year) are
here
in the message board. Come sign up and say hi. Terrific group of girls there!!
Here's what I came up with:
Originally, I was just going to do it as a digi layout... and 8 1/2 x 11, then it kind of morphed into this hybrid. I typeset my list in Adobe InDesign, then printed it on an 8 1/2 x 11 sheet horizontally... I just love the teal and red combo. The polka dot paper is from Imaginese - Twitterpaited, the bottom is a Jenni Bowlin sheet I've had for eons, and I really don't know who did the black and white sheet. I pleated and sewed that sheet to look like a ribbon. There's a tutorial on the
Ally Scraps blog
for the pleating. Check it out.
And, you know me, love the close ups: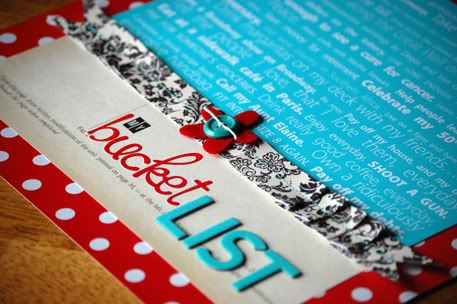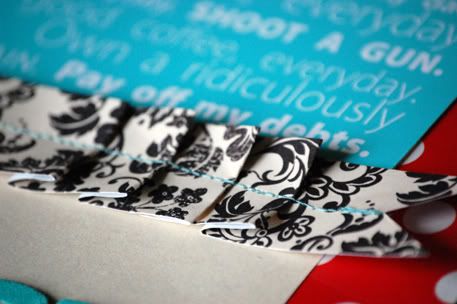 I am honored to have received the "One Lovely Blog Award" by
Patti (Scrapping is My Passion Blog)
. Thank you Patti, I really appreciate you thinking of me! Go check out her blog, I just love her birdies at the top!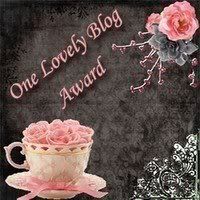 And now, I get to bestow this award on to 7 lovely blogs...
Kristin - Glue and Popsicle Sticks
Joceyln - Simply Me
Beth - Dirty Laundry
Kristie - Three Guys, A Girl, and A Camera
Kim - To The Stars & Back
Melissa - Life is Art~Pug Notes
Pamela - Pamela's World of Scrap
OK, that's it... I could go on, and on...so many blogs I love. Such wonderful people out there in blogland! :) But, I need to get ready to eat cake!
Have a great day...
oh and don't forget to
VOTE
!! The polls are still open. I am sooo crossing my fingers and toes that I can get pubbed in
Creating Keepsakes readers choice section!!
Thanks!!