TGIF for sure today. What a week. Kids are out of school a mere 24 hours and I hear "I'm bored." (insert eye roll here!)
Yesterday I took some photos of my friend Diane's daughter. She just graduated high school. She looked so pretty in her cap and gown. I was so excited that I got such good photos. I think they'll be pretty happy with them.
I used some actions on them. I'm not a stranger to actions, I just don't use them because you can do all that stuff manually in Photoshop. But, I think I "get" them now. They are a great time saver. Especially when you are processing 50 photos. My favorite action is a free one from the
Pioneer Woman
called Lovely and Ethereal. Really softens the photo.
Hopefully, they don't look too dark on your screen, but, when I got them printed, they were perfect!
Friday Favorite
I haven't done a Friday Favorite for a while, because well, it's been Cosmo Cricket Early Bird for the past few weeks! However... today I discovered some new goodies from My Little Yellow Bicycle. Oh, so cute!! They came out with an entire line for just journaling. Yep! It's called
Say What
. They have tablets, clear sticker words, and clear cuts journaling pieces. The clear cuts are my favorites.
I like these, kinda like the Maya Road ones. I think I just like journaling spots in general.
June Sketch
Did you know that every month
Debbie Gaydos
provides us with a
sketch challenge
on
Ally Scraps
? Play along and you can win fabulous prizes! This is the June sketch... and I think Deb really has outdone herself this month: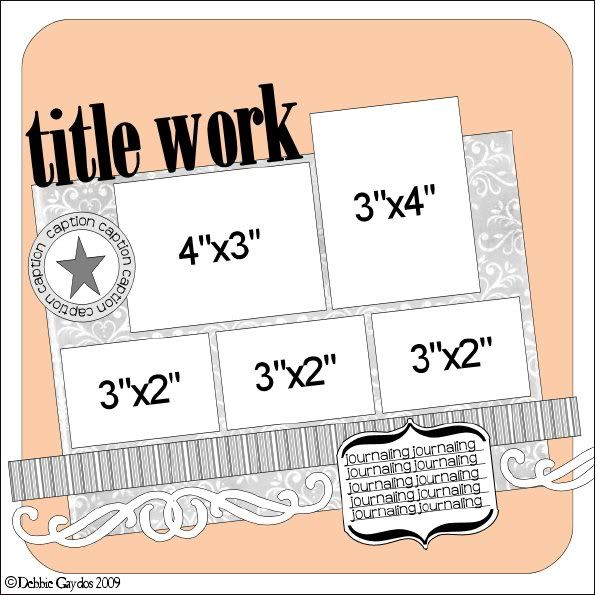 You can see ALL of Debbie's fab sketches in the
Ally Scraps Sketch Gallery
. Check it out! I think I'm going to use this sketch this weekend.
Toot! Toot!
Not for me, but for my talented hubby! Thru his internet connections, he found out that there is a Hawaiian baked goodie with his illustration on it!
See the little chef guy? Pretty cool. I wonder what they taste like?
**BONUS**
Friday Finds
Check these out:
Make a heart out of a paper clip
Bottlecap Tripod
... this could come in handy!
Have a great weekend. Hope you enjoy it.
Get scrappy, or enjoy the weather, or heck, just relax!