First, I want to thank everyone who voted for me!
I WON!!
My layout is going to be published in the November
Creating Keepsakes
. Oh my gosh! This is so awesome. :) What exciting news. I am just on cloud nine. hehehehe, can't wipe the silly grin off of my face. ;)
OK, I'll try to relax....
Wait, one more squeal......eeeeeeeeeeehhhhhhhhh!!!
OK, I'm good now!
Phew...
Now on to more vintagey goodness... I love Webster's Pages paper... I'm trying to channel those wonderful shabby chic girls once again... here's what I came up with...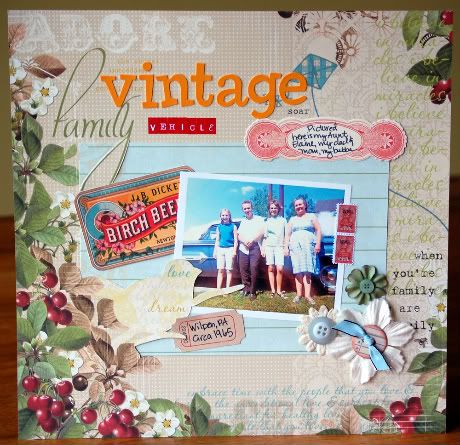 I've got 3 Webster's Pages papers on here – the Sweet as Cherry Pie collection. The background is
Fly A Kite
, the blue is
Tell Your Story
and the Birch Beer label was cut out from
Let's Celebrate
.
A couple of close ups...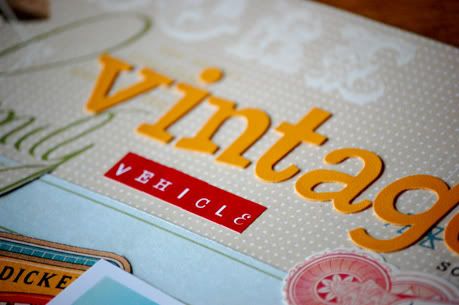 I know none of my local LSS carry Websters, if yours doesn't, you can always order it from
Ally Scraps.
She has a really good shipping price, and they're really quick!! I love getting my box of goodies when I order!! Who doesn't love scrappy mail?
In the photo is my Aunt Elaine, my dad, my mom and my Bubba (Grandma). My aunt is about 13 or so in the photo, and I notice such a resemblance in my daughter. That's neat. I love old photos. I always looked at my son and wonder where his nose and chin came from. Then one day while I was working on a mini album of Matt's mom... there was Ethan's chin and nose! Matt's mom passed away in 1993 before either of my kids were born and I really only knew her for a year... so I didn't get the connection until I saw the photos of her when she was young.
Thank you again for voting!! I can't wait to see my layout in CK. I've never been published in that magazine.
Have a great day!!