I must have the
Early Bird
! I love the Early Bird! I NEED the Early Bird!!!
I sure hope Cathy at
Ally Scraps
gets some in.... seriously, it's so stinkin' cute and I've seen the Cosmo blog with the cute cards they made! SAAAWEEET!
I did order some
Create Paper
and the new
Doodlebug
Keylime on Thursday.... I can't wait to get my Ally Scraps goodie box with the kitty on the label!! Scrappy mail is good mail!
Anyway, I had the best cup of coffee this morning. Does that happen to you? I mean, I do what I normally do, I measured the beans... ground them, measured the water.... made the coffee, and it was just super yummy. :) That's a good way to start a Monday, eh?
I also got scrappy this weekend. Yup. I was actually pretty darn scrappy all week. I did this layout using mostly all
Sassafras Lass
paper for a challenge on AMR hosted by
Abby
. She had a list of 20 things... yeah, 20! It was really fun tho, and got the mojo going.
PLUS, I used my Glimmer Mist that I just bought. I bought Tiger Lily. I used it on the tag. I crunched up the tag, uncrunched (is that a word?), then sprayed with GM, then crunched it up again while it was wet. Then I smoothed it out and dried it with the heat gun. It turned out pretty cool. Here's a close up: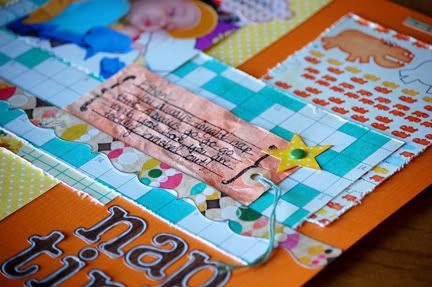 That's it for this happy Monday!!
Good coffee, scrappiness, blue skies, and only 3 1/2 more days of school....
ahhh, life is good!!!