before I leave for CHA... should I be sleeping? I have to leave my house by 4 AM to be at the airport by 5 AM... do people go to sleep at 8 at night? LOL! I'm still washing clothes, and I need to pack... guess I'll sleep on the plane. It's only a 2 hour flight, though.
I bought some new clothes... and boy, did I find some great bargains or what!! I spent about $80 and I got 1 shirt dress, 1 Ann Taylor jacket, 1 Ann Taylor shirt, a 9 West purse, a pair of Seven jeans, a cream colored shirt and a white shirt with some designs on it. I added it all up and at retail would have cost me about $340. I wish I would have had more time to look for shoes.
Here's the dress, I think it's so cute!!
I want to thank my friend Carol (luv ya babe!) for talking me into buying the dress. Really, it was $16. Even if I wear it one time, it was worth it.
I also have a layout to share... I've had this sitting on my desk for, oh, about 3 weeks, but was too lazy to cut out the title. I finally cut the title Thursday night, since I needed to cut out some shapes and had to fire up the Silhouette cutter.
It's my dd's 5th birthday... wow, seems like yesterday... not almost 8 years ago!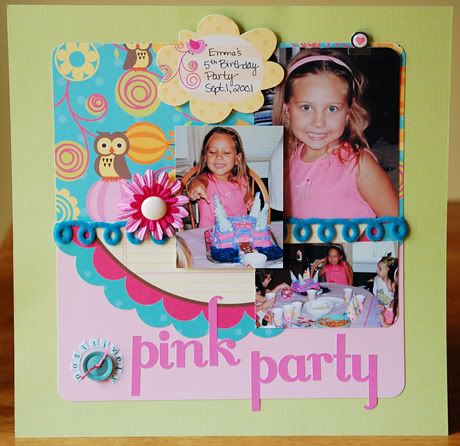 I used
My Little Shoebox
papers on this layout... they go perfectly with the whole pink party thing.
Couple close ups:
Have a great day... I hope to post from CHA... I was going to take the laptop until my husband decided that the software needed to be updated... it was running too slow... ugh... now it won't run at all. Poor old iBook... might be time for a new one.
Well, I guess I should pack, and sleep... huh?