You are so gonna laugh at this.
For our second installment of the
Book of Me
over on
Ally Scraps
the prompt was childhood memories. I did ages 3-7. I used this Sassafras Lass sheet to give you that 70's vibe... kinda goes with my Partridge Family hair do, don't ya think?
Out for pub, will return in May 2010.
(if you want to read the journaling, just click on the photo and it will enlarge, I believe)
Couple close ups...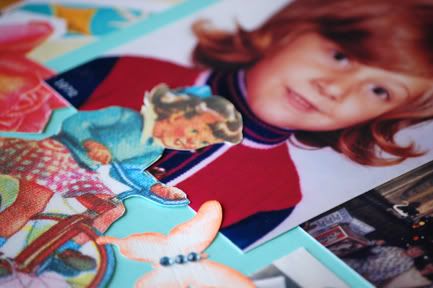 I crack up every time I see this picture of me. Didn't know I was a natural red head... did ya? lol. I pay good money for that color now! I remember my mom and my aunt doing my hair up for my picture... all the Aqua Net... blech. I sat in my brother's high chair while they worked their magic.
CHA
Well, guess what?? I got the most fabulous call today from Michelle of Creating Charms. She invited me to go to CHA with her!! I am soooo excited. Woo-hoo... I can't wait... ok, so I need to lose 10 pounds, get my hair done, get new shoes, new clothes, new makeup.... LOL! Hey, if any of you will be there, let me know and maybe we can hook up! Such fun. I've been to paper shows before, but never CHA. Yeah!!
Have a super day... come on get happy!! ;)