Just a quick post to share a layout I did the other day. I used My Little Shoebox papers, the front and back of
happy thoughts
and
slow motion
that I got in my
Ally Scraps
order. I cut the slow motion sheet to mimic the curve of the "Steel Phantom" roller coaster. I love when an idea just comes to you, and then it turns out exactly like what you saw in your head. Doesn't happen often, but when it does, it's awesome!!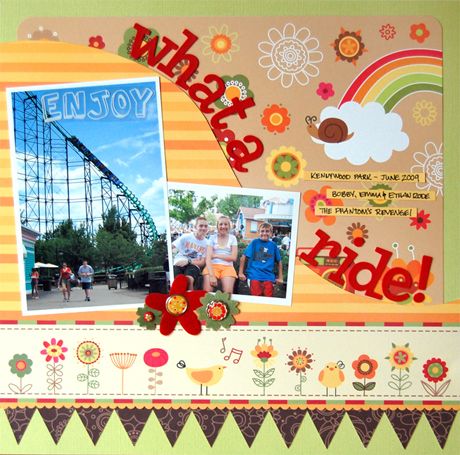 Here's a close up of the flowers, I used some American Crafts felt flowers, a BoBunny brad (smaller one) and some old-old Autumn leaves brads.
I can't believe next week at this time I'll be at CHA... how cool. I hope I can meet "IRL" some of the people that I've met thru message boards. That would be fun.
Have
a
great
week
!!