I'm sitting here watching Tyler Florence making apple tartans... and wishin' I could just stick my hand thru my tv and grab one... wow, they look yummy...
Oh... sorry, lost my train of thought.
This past weekend, my son learned how to "drop in", which is skateboard lingo for being at the top of a ramp, with your skateboard hanging over the edge, then you push down on front and go down the ramp. Pretty scary stuff, and really scary for a mom to watch!! He did this on Saturday before we went school shopping. I didn't get to see, so we told him we'd take the camera and he could go to the skatepark on Sunday. I got some great shots.
I'm so proud of my little man!!
Here's a layout I did using my August goodies from
Ally Scraps
. My base paper is
Fancy Pants Turquoise grid
shaped paper. The paper under my title is from
Crate Paper
, Orbits line, as well as the little word bubble that says
"I was born ready"
. Love that.
I also punched out some gears with that green Crate Paper. I used a path in photoshop to journal along the ramp.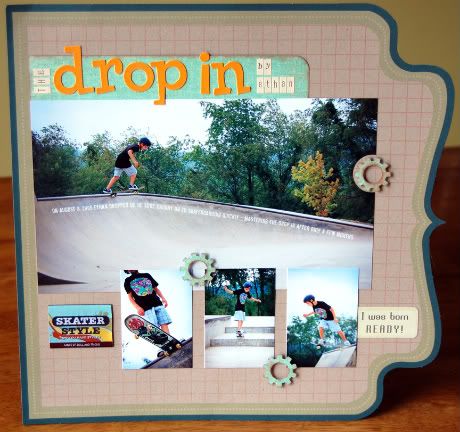 My free SVG files proved to be popular... so, I thought maybe once a month I'll offer up some sort of free digital element... something usuable, hopefully. I'm thinking tags, more svg files, maybe some templates, brushes... stuff like that.
That's it for today.
Have a great week!!