Yep, I still have CHA photos to share.
Being a designer, and having designed my share of tradeshow booths (all pretty corporate) I was pretty enthralled with how fun and creative all the crafty booths could be. Mind you, there were a handful of very, very, veerrrryyyy boring booths. I really wanted to walk up to this one guy and say, "Hey, let me do your logo." Seriously, he didn't even have a logo. He was selling these plastic container things. Which is fine, but he had Barbie dolls in it (yeah, you girls who went to CHA, you know the one!)... um, dude, you're at a craft show, put some CRAFTS in it.
Needless to say, he did not get a lot of traffic to his booth.
Sometimes I wonder when people start a business do they just wake up one day and go, "I'm going to start a ______ ." Meanwhile, they have no history in it, no interest in it, no schooling, they just do it. Weird. Then, you end up with a tradeshow booth like Mr. Plastic Container guy.
On the flip side.... you have some beautiful examples of creative tradeshow booths... and they got A LOT of traffic. One of my favs was the
Tim Holtz Idea•ology
booth. I love how he didn't just show product, but incorporated all kinds of antique collectibles. There's much to be said about a clever arty display of your product, no matter what you are selling.
For instance, this frame with these tags (for lack of a better word, they're more like works of art), beautifully displayed, don't you think?
And here's a great display of product... but rather than just getting one of those boring racks, he incorporated a hutch to put the product on. I love the bird cage, suitcase, old sewing machine and antique fan on the shelf. Very cool.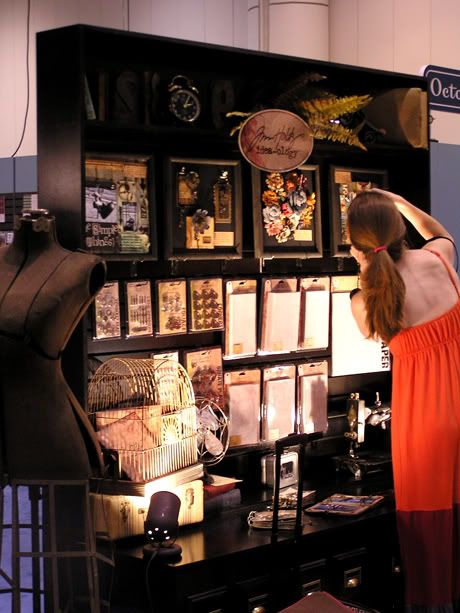 Here's
Mr. Timmy
himself. He was showing us different things to do with grunge board. I wish I would have retained at least 1% of what he was doing... however, I was in such awe of his work, I have no idea what he did.
(OMG, I am such a dork!)
However... I did do a make and take at Ranger with
Claudine Hellmuth
. She is just so nice. Seriously. And so creative. I felt comfortable chatting with her... but for some reason, I was
inTIMidated
by T!M! LOL!
Here's Claudine: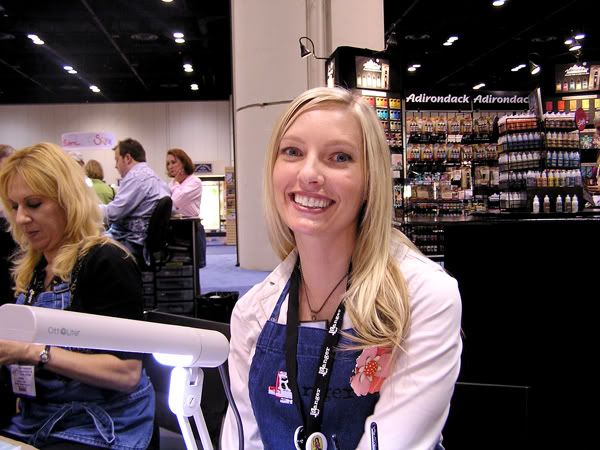 And here's the make and take we made. I do remember how to do this cool resist technique.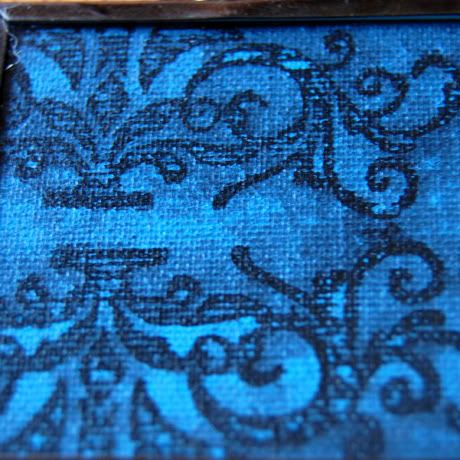 Instructions:
All the products are from
Ranger
. I'm so happy my LSS carries this stuff, because I think I'm addicted!
Step one:
You need a piece of
self adhesive canvas,
(this stuff is cool!) and using acrylic paint, paint the canvas completely black (or dark color of your choice)
Step two:
After the black is dry, using a stamp of your choice, stamp it into a
watermark ink
pad, then stamp onto the black. Let it dry.
Step three:
Paint over the entire area with blue (or your color of choice). The watermarked area will resist the paint, and the darker paint will show through.
Cool, huh?
OK, now, here comes the really neat part:
Step four:
Since the canvas is sticky, all you need to do is take it from your work surface and apply it to whatever you want... another canvas, a scrapbook page, a tag... in this case, we made a necklace and adhered the sticky canvas to some glass, also sold by Ranger, called
Memory Glass.
Then sandwiched the top layer of glass and put it into the
Memory Frame
.
That's it. I think this would be great for Christmas ornaments. Great gift. You could glue little tiny photos in there. I think this is a pretty neat product. I like to get messy and paint.
Have

a

creative

day.

Go

play

with

some

paint!!!