I took a break from blogging for a few days... I have a lot of stuff going on. But, I did want to share two things. One is this ADORABLE apron that
Joscie
made for me!! AND, it has "peas" on it!! My mb name is Chrispea.... oh, and it has nothing to do with Two Peas in a Bucket... it has more to do with eating Chinese stir fry in 1997 with my friend Suzi at work and having peas roll all over the floor... I've had the nick name Chrispea ever since.
I have to say that Joscie is a fabulous seamstress! This apron is perfect! Check it out!! I love it!!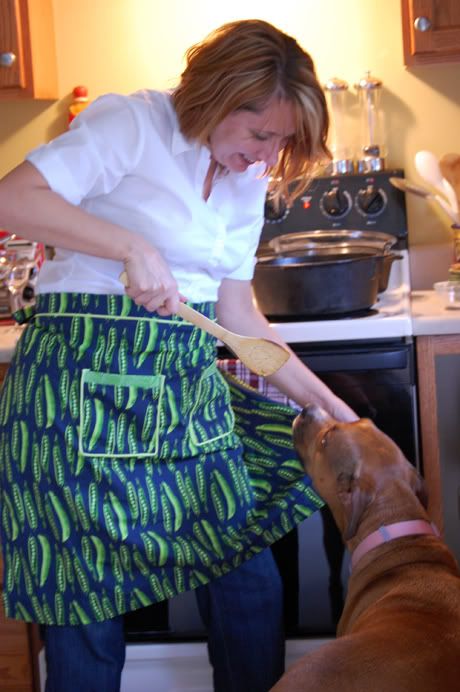 Ignore the scary hair... I'm getting a long over due cut on Friday! I was trying to fan out the apron, but apparently, Sophie wanted in the photo, too.
Look at the cute details on the pockets! Thanks so much Joscie!!
My second share is this "toadly" cute card. I made it real quick last week for the in-laws for Grandparents Day, which was yesterday.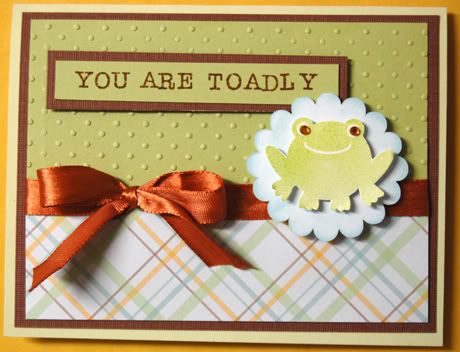 The inside says "the best grandparents ever."
That's it for today. Check back, I'll have a
Nikki Sivils
Halloween layout on Thursday, plus she'll be featured at Ally Scraps, then some freebie hybrid stuff to share next week... and who knows what in between. ;)
Have

a

great

day

.