This AM, my dh (dear husband) messed up my routine. YES, this whole mishap is
HIS
fault.
Our coffee pot is a Mr. Coffee and it's red and shiny and
I LOVE IT!!
Well, Mr. Hertel decided to take the basket out and set it beside the coffee pot.
Mrs. Hertel
(that'd be me)
proceeded to put water and coffee into her coffee pot. She put the freshly ground beans into a coffee filter and put the filter in the pot.
A few minutes later my son yells that the "tea" is leaking.
Oh no, the basket isn't in the pot. I try to rescue the coffee by pulling the filter up and out, but it
EXPLODES
.... coffee and grounds are now everywhere. UGH.
One hour later... coffee is cleaned up, grounds are cleaned up, I decide to rinse the pot out... the machine, as well as the pot... apparently, water got up under the clock thingy. It still worked so I just ran water through. I dumped out the water and was ready to make a fresh pot. By now it's 9:30 and way past coffee time. I get everything ready, grind the beans, add the water... and press the button.
NOTHING.
I KILLED IT.
BUMMER.
I had to pull out an old machine and make due... it made coffee that tasted like watered down cigarette butts.
Desperate... I drank the hot liquid.
I guess I need to buy a new one, unless it dries up and suddenly starts working.
Here's an ode to my coffee pot that I did a while back.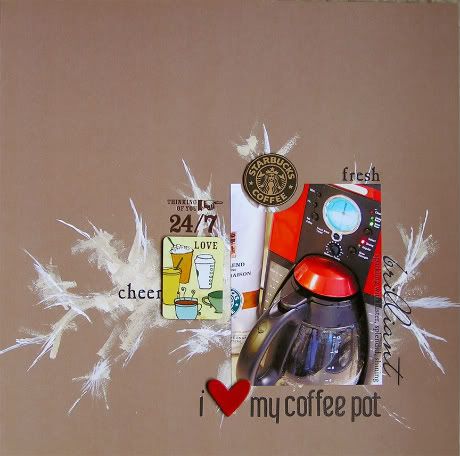 Hope your day started off better than mine!!

Happy Monday!