On Monday I had to get my blood tested for my white cell count to see if I could get chemo on Wednesday... all the counts were good and I got my chemo. While I was getting my blood taken, this nurse walks in and is staring at my hair (aka my wig) and I'm getting rather paranoid... I kept thinking she knows it's a wig, she knows... then she blurts out...
"I love your highlights!
"
OMG, I was floored. Talk about making my day. You have no idea how weird it is to walk around with a wig on. At first it was itchy, and made me cry, now it's not so bad, I'm getting used to it, but I feel like I'm wearing a hat all the time.
Of course, I say, in my typical Chris fashion,
thanks, it's a wig
. Why I tell people this stuff when she had no idea, I don't know, but I do that stuff all the time. Like someone will say they love my boots and I'll say I got them at TJ Maxx for $25! It's pretty funny. I'm weird like that I guess.
Are you ready for Christmas? I'm not ~ but I did a Christmas type layout. There was a challenge on
Serendipity Scrapbooks
board to do a layout of your favorite movie, and the one that came to mind was
It's a Wonderful Life
. We have the dvd, but I always can't wait for it to come on TV. That movie is Christmas to me.
I made this layout pretty graphic looking. Pulled the photos from the net, and printed them on a matte paper.
I pulled some of my favorite quotes from the movie, like "Every time a bell rings, and angel gets his wings."
Here's a close up: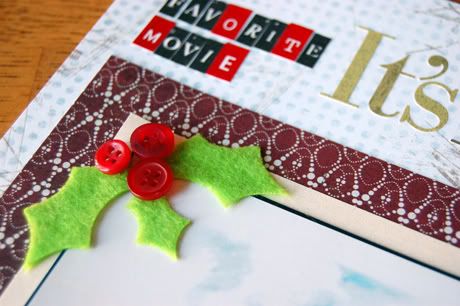 Take care, and don't forget to feel your boobies this month coming up!
Have

a

great

weekend!