Saturday, I was cruising the Two Peas top 10. That's always my first stop... when OMG, there was MY layout in the top 10!! Woot!! It was there for a whole half a day, but still, it WAS there. I was sooo excited.
And, look, I took a screen shot of it!!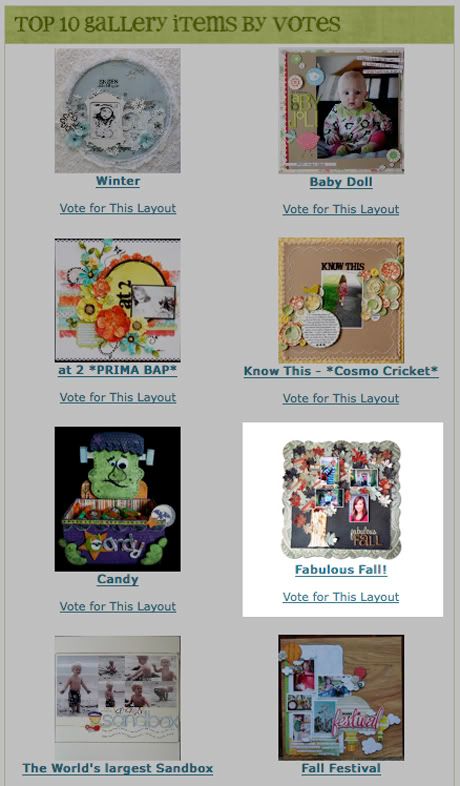 It was my
Fabulous Fall leaf layout
, which just happens to be my very favorite layout. So, that was pretty cool.
I finally finished my layout that I started a week ago. I used the Cosmo Cricket Girl Friday, I think... or is it Girl Thursday?? At any rate, this is about my "Super Best Girlfriend" Carol. We met in art school a long time ago. She really is the best. :)
Here's a couple of closeups: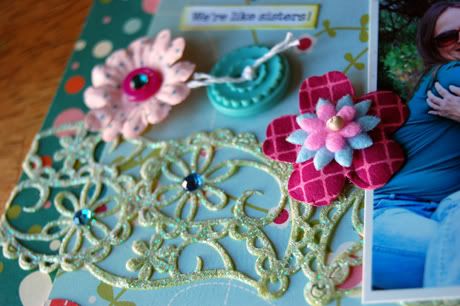 The pretty sparkly lace was given to me by
Patti Martin
, just out of the blue. How cool is that? Just love happy scrappy mail. Thanks Patti!
Another close up, I really love the Martha Stewart punches:
That's it on this fabulous sunny Monday. I love the sunshine, especially on these beautiful fall days. They go by so quickly.
Have
a
great
day!