Use care when operating a car or dangerous machine.
That's what it says right on my anti-nausea meds. But do I listen???
Nooooo.
Yesterday my friend Amy called. She wanted to take me to lunch. I happily replied "YES". We decided on the Olive Garden. Amy lives up on the mountain, it's very beautiful there, but not really near any signs of life until you drive at least 5 miles to the next house, so she was pretty happy to get out.
I ran upstairs to get ready for my lunch date. Suddenly, I felt extremely sleepy. I mean I think if I would have laid down, I could have slept for 2 hours! But, I jumped in the shower instead hoping it would wake me up.
While putting on my make up, I kept thinking... should I ask Matt to drive me over there? Then I thought "nah" I should be ok by then.
I get in the car and very carefully drive to the Olive Garden. I manage to make it out of my neighborhood, pass my sons school, then it's time to turn left, so I start to turn left, but the sign says "No Outlet". So I stopped. Then I thought, I wonder if the bridge is out.
Then I realized it's the WRONG road. I need to go to the next road to turn left. So I swing the car back onto the road after very carefully looking in the mirror to make sure I wasn't pulling out in front of anyone, and proceed to the next left turn.
Now, I have lived here for 7 years. I practically drive this way everyday... how did I turn at the first left instead of the second?
And, do you want to hear something even funnier???
There aren't any bridges!
OMG, I really should NOT have been driving.
I managed to make it to the restaurant and told Amy and the waitress my story right after she asked us if we wanted a drink...
Moral of the story, when your meds say that they "may cause drowsiness" and "not to operate machinery", perhaps we should actually listen.
We spent a good 2 hours at lunch, and by then I was back to normal.

I have a layout to share today, too. I did this a while back and submitted it to a couple magazines, but it didn't get picked up. I believe the paper is Pink Paislee or maybe Crate Paper, or both... I can't remember. I like how it turned out. The little boy moved away, so I can't submit it because I'd need his mom to OK it.
But, I can put it on my blog!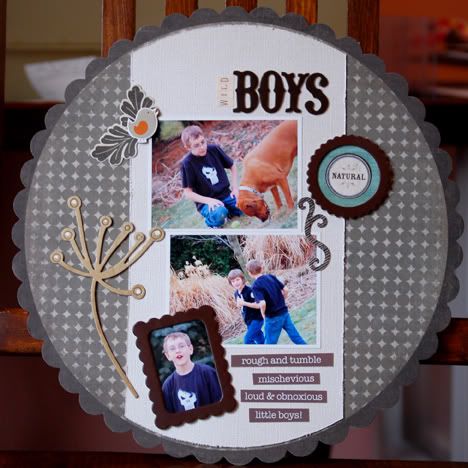 Thanks for stopping.
Hope you have a great day.
and remember
Feel Your Boobies!