A few weekends ago, I took some photos of my niece. She is going to be 18 years old. I really can't believe it. I did a photo shoot with her in my back yard for her senior casual portraits. I used my bricks on my house for some texture, the bench by the trees, and a chair. Her dad (my brother) was real pleased with them, so we're going to get some more prints made, and I'd like to give some to her mom (they're divorced).
Anyway, I had her wallets sitting on my desk and thought they'd make a cute layout, so I pulled out this fun BoBunny paper and here's what I came up with. The title tells it all because if you've ever met Michelle, you'd definitely say that She is sweet.
Here's a couple of closeups.
Here I used my new Martha Stewart Loopy punch on the blue: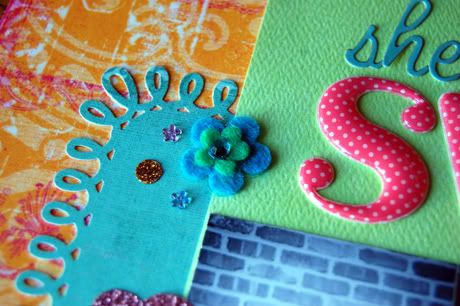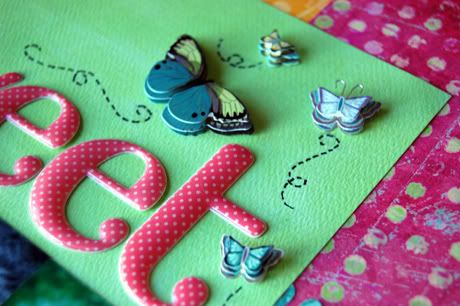 I ended up doing the layout for a daily challenge on
Serendipity Scrapbooks
. They have a fun daily challenge every day, and the more you do, the more chances you have for a prize.
Creative Charms Products
I've been working with Creative Charms - an embellishment company - for about a year now. I do their package designs and their catalogs and also some sales sheets. I also do some scrappy stuff for them once in a while.
I love their stuff. They have these great antique brads, they're my favorite. Well, the good news is, if you can't find their stuff at your LSS, they are now carrying Creative Charms embellies at
Addicted to Scrapbooking
. Check it out if you get a chance.
I recently did this layout for a Breast Cancer Awareness kit that CC was selling. Lot's of Creative Charms product on here. The metal butterfly brads are cool, because you can lift up their wings for dimension:
This is from a different layout, but you can see the wings lifted: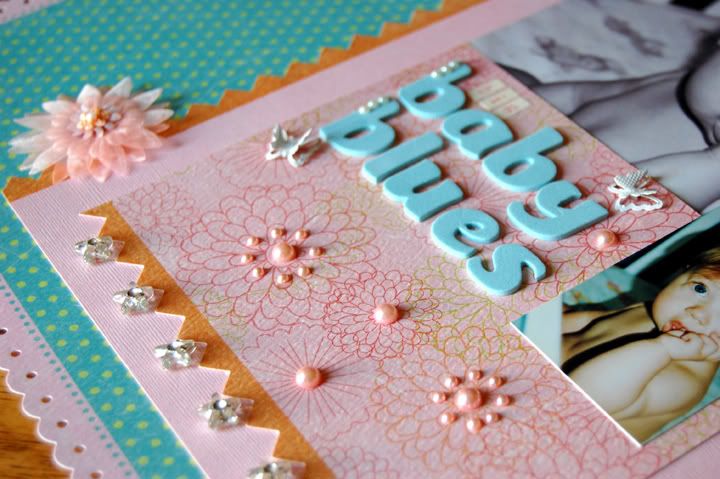 That's it for today. I had chemo yesterday, and all went well. I feel pretty good. As long as I can keep the nausea in check, I'm good. I'm going to work on some projects for Indiana University of PA, then I think I'll relax and watch a movie. Sounds good! I'm glad I don't have a hard job, LOL! Or one where I have to go into the office. I really don't miss that. I love working from home. :)
Have

a

great

day!!