So sorry, I meant to post something last week, but, I got lazy and took a break. Actually, I wasn't lazy, just very busy. We hosted Thanksgiving here, and although my dh did almost all the work, I was soooo very tired. I really can't wait to be done with this chemo and be "normal" again. It was nice to do nothing after Thanksgiving, tho. We got some movies on Friday and just watched them all day.
I made the matching place cards for Thanksgiving. They matched the candle ring things I had made earlier. They're not fancy, but they did the job:
And, it snowed on Friday: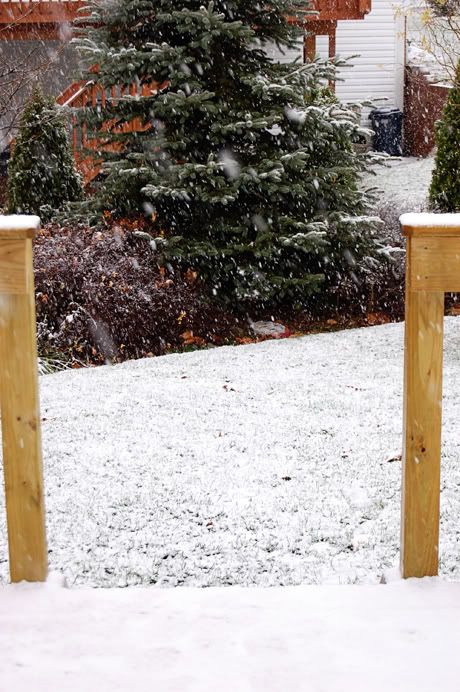 It all melted by mid afternoon.
Saturday we celebrated Matt's birthday with his dad and stepmom. We had Chinese food, and I ate spicy tuna sushi, totally forgetting that I'm not supposed to eat raw or undercooked meats while on chemo... (oops). I meant to only eat the cali rolls, but OMGosh that was good spicy tuna!
I made these babies last night... Christmas ATC's Tim Holtz style:
I first used clear embossing powder on the white swirls. Then I sprayed some blue and a bit of orange mist onto wax paper and then smeared the card into it. Then I stamped the deer and put black embossing powder on him. Then I stamped the ornaments onto the deer antlers and used silver embossing powder on those. The stamps are all Basic Grey from a few years back. It was a messy project, but fun to do.
I got some great mail goodies last week that I'll share with you later. Haven't had a chance to take pictures yet.
Hope you all had a wonderful Thanksgiving.... and if you're not from the US, hope you had a great weekend. :)