on blogging. I wanted to post this yesterday, but the day got away from me.
On Sunday Emma and I went to Art Tech's open house. They are my local scrapbook store, but they also sale lots of art supplies and stamps... tons and tons of stamps. I was looking for an ATC stamp, but they didn't have one. I managed to buy some stuff anyway. I got some of the new Basic Grey Christmas line Eskimo Kisses. I've been seeing so many cute projects with that paper.
Here are some cards we made at the open house... these were so fun and easy to make. Don't ya just love make and takes? Everything is cut for you... love that. We used the Ranger alcohol inks on vellum, then we punched out leaves from it. It's so cute! And they embossed the words using Coordinates cardstock. That was my first time using it. Loved that too.
Here are the cards: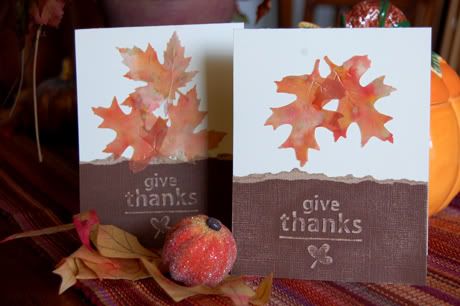 Here's a close up of the leaves, it was a Marvey punch, that punched and embossed:
I was so excited to do those, because I needed to make cards for my mother-in-law and sister-n-law... got to check that off of my list. I was going to add a button at the top, but then I thought, nah, I need to mail these, so I just kept them flat.
I have an entire set of Dr. Martin's dyes from back in art school... they're just like the alcohol inks... but I just never think to get them out and use them.

On a sad note... last Friday, we had our little pug dog Louie put to sleep... that is such a strange term. We felt it was time. He was 15 years old, and couldn't get around very well, having accidents 9 out of 10 times... it's really sad to see your pet get old and frail. He lived a really happy good life. It's hard to remember how spunky he used to be. I found a couple of old photos of him, one is when we first brought him home. He was so small, and his face was so black! What a cutie.
Here is Louie as a baby... he's on the blanket with his big brother Oskar, our first pug.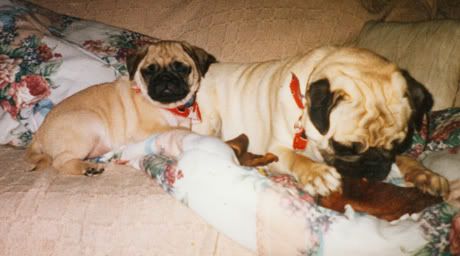 And, here's Louie in his hey day, all healthy and chubby. Little bit of gray on his muzzle, he was about 10. Baby Sophie is in the background, she used to be little!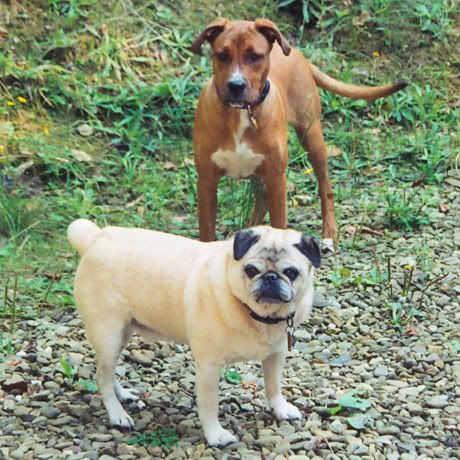 RIP, little Louie, we will miss you.