Today I'm going to meet a sweet scrappy friend for lunch at the Cheesecake Factory. Her name is Kim aka Destiny1 and we met on the All Moments Remembered board. She lives pretty close to me, on the other side of Pittsburgh, so we're going to meet in the middle. Should be super fun. I've got some scrappy goodies to cheer her up. I'm going to take my camera and hopefully get some shots. Gotta make sure that battery is charged up!
Yesterday, I did a digi Christmas layout. It was fun to do digi for a change. I pulled some photos from last Christmas and whipped it together.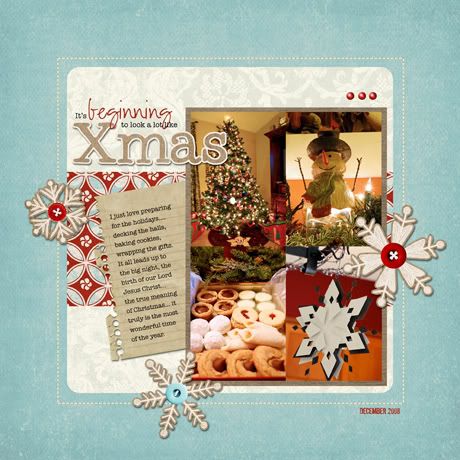 I used the
November Page Maps
sketch. 95% of the product came from Crystal Wilkerson's Vintage Candy Cane kit sold
here
.
Doing that layout really made me excited for Christmas!! But, we gotta do Thanksgiving first, which I love.
So, do you
brine
your turkey? We've been brining our turkey's for the last 5 years, and it makes a world of difference. They seem to brown better AND they are so super juicy. Mmmm... now I want turkey! We're doing Thanksgiving here and the in-laws are coming over. My MIL was worried that I'd be tired, but really, I enjoy cooking. Like I said the other day, I was bored so I made the carrot cake, which turned out sooo super yummy!! I took a photo for you!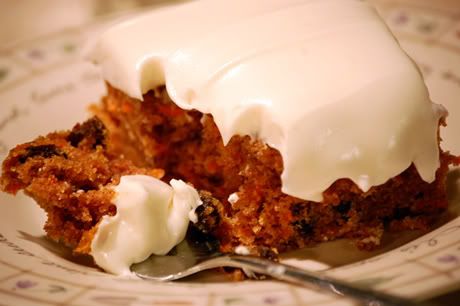 I'm sorry the photo is a bit dark, but gese, it gets so dark now with the time change!! This cake is soooo super moist. I put raisins in it rather than nuts because my son is allergic to nuts. Yum, yum!
Well, I'm off to get ready for my lunch date. I know it's early, but I'm afraid the traffic into Pittsburgh will be horrific, as it usually is.
Have

a

great

day!!