If you are from around the Pittsburgh area, you might have heard of
Eat n' Park restaurants
... they are famous for their Smiley cookies. Our local supermarket has their own take on this cookie. However, I found myself kind of depressed after eating them...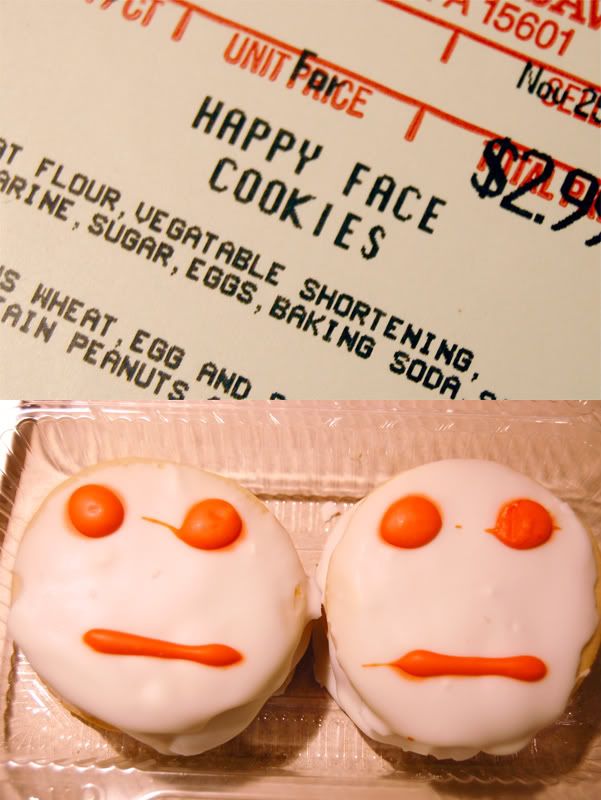 Ummm, someone get these cookies a Prozac, pronto!
Actually, they made me giggle. While they were in the packaging the label covered up their ambivalent faces, so I didn't notice. Maybe they were made by a disgruntled baker.

I did a bit of crafting this past weekend. I was inspired by
Lisa Dorsey's
napkin holders to make these candle rings. I mostly used scraps and old stuff to dress up these very inexpensive candle holders.
Here's a little close up: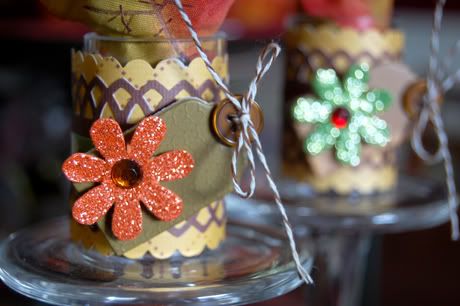 I started on some matching place cards, but haven't finished them up yet. I think I need to clean first seeing that I'm having guests over for turkey day. It's soooo hard to clean. I need a maid. I'm not just bellyaching, I just get super tired with my chemo treatments. However, I am so very grateful that I have a husband that does help me cook, clean and take care of the kids. He's such a great father and husband. Despite everything, I'm a lucky girl. I'm so
very thankful
to have the best hubby in the world this
Thanksgiving
. He loves me no matter what, even now, when I look like one of those hairless cats!
What are you
thankful
for this Thanksgiving? I'm sure if you think about it, you have plenty to be thankful for.
God

bless

you,

and

have

a

most

happy

Thanksgiving.