Hi y'all!!
As promised I have some holiday freebies for you. I've been working on these for about 2 weeks. I did everything in adobe illustrator, and had a blast making all these neat patterns to share. I did take them into photoshop and added a little grunge factor.
First up, I have the very first pattern that I made, Houndstooth! I just love, love, love Houndstooth and was so excited when I learned how to make it.
I have five different 12x12, 300 dpi jpeg papers for you to enjoy:
Here is the link to
download
.
Now remember, this is just for personal use only. If you use it, please give credit if you can, and also don't try to sell it, because karma will come back to bite ya in the butt!
I also made some coordinating journaling cards. You can either use them on a digi scrapbook page, OR just print them out on an 8 1/2 x 11 page, trim to size, and even use a corner rounder if you like to add to your traditional scrapbook pages.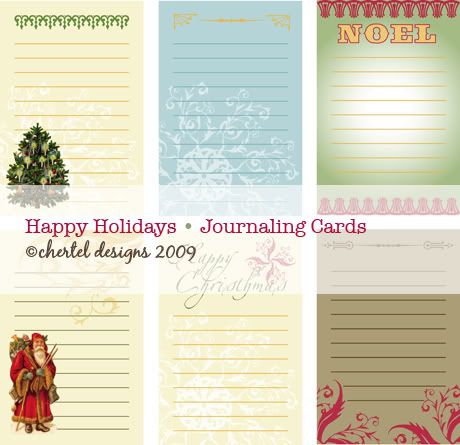 Here is the link to
download the journaling cards
.
I hope you enjoy these Holiday Goodies. There will be more to come, so stop back!!
Have
a
scrappy
day!!