I'm sure this tradition isn't new for a lot of people, but for us, we just started it last year. We started the new PJ's for Christmas tradition. My mother-in-law likes to buy them for us, so hey, I'm not gonna complain! When she was here for Thanksgiving, she gave me a check to buy the PJ's for this year.
I did a layout of us in our new PJ's from last Christmas. I used older Christmas paper, which I have a ton of. Note to self ~ stop buying so much Christmas paper!!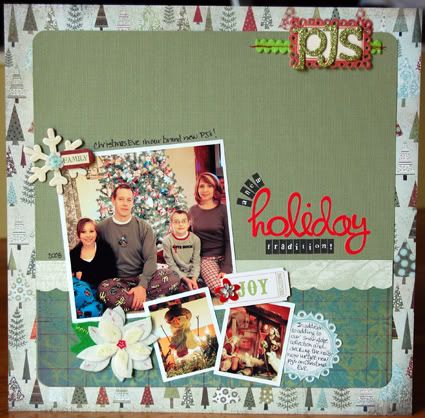 See the Joy Ticket? I made those last year as a downloadable freebie for Christmas. This year I'm working on some papers. I'm playing with patterns and having fun with some vintage images, so stay tuned for an upcoming holiday freebie! I will also have a few SVG/PNG files to share for cutting or using in a digi project.
Have

a

creative

day!!