I took a few sheets of the paper I created, printed it out on my favorite ink jet paper, which is Staples brand Photo Supreme double-sided matte paper. It's 61 lb. weight, so it's somewhat heavy, but still goes thru my ink jet printer. I set my printer settings to brochure paper. It prints out really well. I even use this paper when I want to print vintage photos, so they're not shiny.
I placed 2 different patterned papers on an 8 1/2 x 11 sheet, because I knew I wouldn't need a whole sheet of each pattern.
I made 2 cards with the blue papers.
Here is the first card, using the polka dot paper and the plaid paper... ignore the really horrid sewing (the foot pedal to the Purple Pixie sewing machine broke!):
A close up:
Card number 2, I used 3 patterns, the blue polka dots, which I crimped, the plaid w/distressed edges, then I punched out a circle of the tan houndstooth and inked the edge. The felt mitten is from American Crafts. Jewel is from Creative Charms:
Close up: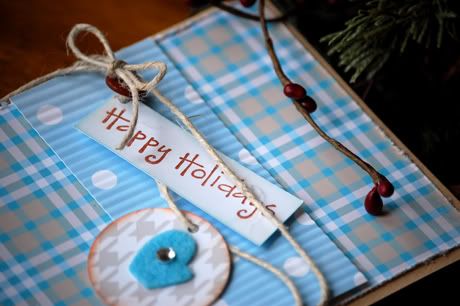 I think I'll hand deliver the last one, it's kinda bulky.
The nice thing about using digi papers is that you can make as many as you need to send. Plus, if you goof up cutting a piece, you can just print out another.
I suppose these cards are hybrid since I used digi paper.
Today's free paper is snowflakes... fancy snowflakes... hope you like them, I think the red is really pretty:
The link to download the
Snowflake paper
.
This past weekend my daughter and I went to see the local production of The Nutcracker performed by The Laurel Ballet here in town. Em's best friend Jade danced as a snowflake and the dew drop fairy. It was a wonderful production.
Here's Jade as the fairy:
And, Jade is here to the far right as the snowflake:
Tonight we're meeting Jade and her mom to shop for their Christmas Dance dresses. I love doing all these fun Christmasy things!
Have a great day... let me know if you got creative with my papers, I'd love to see what you made.