The Craft and Hobby Association winter tradeshow is this week, and I've been working down to the wire... hence the lack of blog post-age! ;P
Isn't it funny how when you are bombarded with work, all you want to do is play with your scrappy stuff? Well, at least I got to make this card for the
Creative Charms
catalog:
I had some space on the gradient brad page and it needed a sample.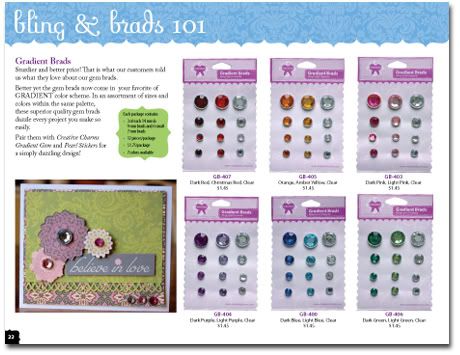 I'm really happy with how the catalog turned out. A lot of hard work was put into it.
Here's a close up of the brads. They're big and blingy!!
After working, um, let's see... well, 12 hour days for the past week, I think I'm going to take a much need break! I just sent the catalog off to the printer in California, so it will be there when Michelle (Creative Charms owner) gets there. I'm so bummed that I can't go, I've got the dreaded chemo tomorrow. After tomorrow, only 2 more left! Woo-hoo. I've come a long way baby! I hope I can go to summer CHA. It's in Chicago... I'd love to go to Chicago!
Until then, I will live vicariously thru all the fun CHA posts and photos that get blogged and facebooked and put on CK and 2 Peas.
Have
a
great
day.