Did you put your color status on facebook? I couldn't believe that it was on Good Morning America. It made national news. I thought that was so cool.
In case you have no idea what I'm talking about, last week all the women were putting a color in their facebook status. Women
(no men allowed)
would get a message from their friends stating to put the color of your bra that you are wearing in your status to help support breast cancer awareness. Now, I must admit, at first I thought this was silly. However, after several of these messages, and me, fighting breast cancer right now, I had to participate. Who knew what a difference that silly little thing would make. It increased the traffic to the
Susan G. Komen
foundation by 2000%. Yep. Amazing. Just amazing.
Well, guess what?
(small toot coming)
My name is mentioned as an "outstanding reader" in the February issue (p.36) of Creating Keepsakes! I was so excited. That's almost as exciting as getting pubbed, and such a surprise.
Kristen Faust
let me know. I need to go buy one now, my sub ran out in December. Oh, and you know what layout I got mentioned for (because I really haven't sent in any others) was the one in my previous post. YEP. Had I put that little piece of twine on it, it might just have squeaked it's way in! Oh well... gives me incentive to keep on trying. I'm still excited. hee hee
And guess what else??? I scrapped!! Yep. I used
My Scrapbook Nook's
kit. I bought the kit on New Years Eve Eve.... every single layout that the DT did with that kit was gorgeous, so I had to have it. I really like it.
Here's what I made with it: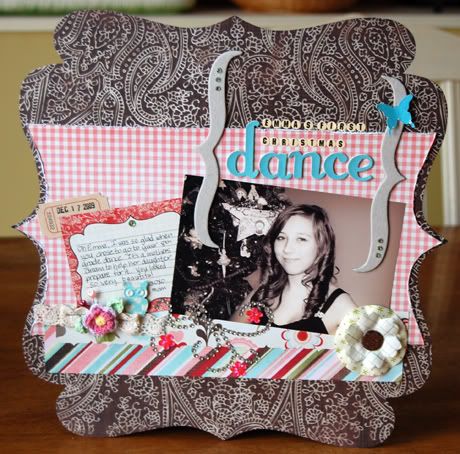 and a few close ups. The little circle letters are Jenni Bowlin.
This little pink crocheted flower is from
Creative Charms
. Martha Stewart owl punch.
That's it for today. The sun is (finally) shining here! Yippee!! It's still super cold though.
Have

a

great

day.

Keep

warm!!