Wow, did this week go fast! It's Friday already! And, you are not going to believe this ~ but, it's snowing. My kids did not have school today, again. I think in a given school year, they get 3 or 4 snow days... well, since the beginning of February, I think we used about 7 or 8. They've already lost 2 off of their spring break.
Oh well. We didn't have any out of town plans for Easter, but I'm sure a lot of people did, and it will mess them up.
Anyway, I digress. I have a fun freebie SVG or PNG file for you. I've seen so many dress forms and sewing things out there that I thought I'd make one myself and share with you, too.
Here are the images:
Here's what I did with the dress form. It's kinda got a vintage vibe. It's not really a card, more of a wall hanging, although I didn't add the ribbon to hang it. I think I'll just put it up on my shelf.
It looks kinda cool next to the dress form that my friend
Christy
sent me: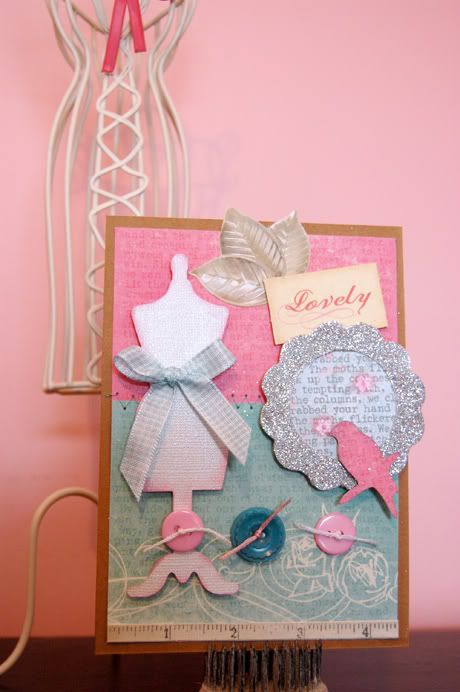 Here's a close up. Note the turquoise button. It's a
real
vintage button, but I saw that Jenni Bowlin is making buttons that look just like this. I found mine this past summer at a fleatique.
The papers I used on this are Prima. The other elements are from K&Co, the bird & the silver circle, I cut out with my Slice. The silver is Martha Stewart super fine glitter.
If you want the PNG files of the sewing images, click
here
.
If you would like the SVG files for cutting, click
here
.