I finished a paper layout! Woo! It took a week! I started with a sketch, then a few nights later, I pulled out some papers.... another day or so goes by, I printed the photos. Last night, I cut the papers, but didn't adhere anything. This morning I woke up early (3 am!), and decided to finish it.
I have a weird sleeping pattern since my last treatment... lots and lots of naps... not cat naps either, like 3 hour naps! Wow, this last treatment made me very tired. But, I guess rest is good. Heal the body!
Ok, so here's my sketch. I always start with a sketch. It's one of those things drilled into my brain from art school. Thumbnails, thumbnails, thumbnails....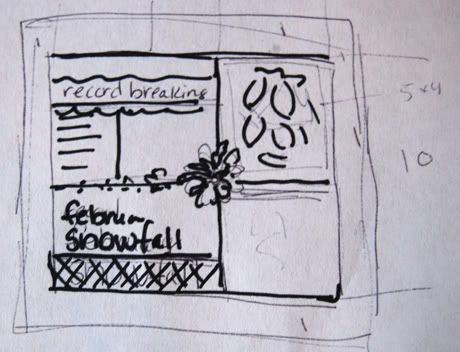 Yeah, that's pretty! LOL! Only I can decipher it! I do have that my photos will be 4x5. I wanted an inch border all around, so I kinda figure these things out before I start cutting. You know, measure twice, cut once?
Here's the finished layout. Lots of old stuff on here... like really old... recognize anything? I've got some Basic Grey on there, My Minds Eye and Crate Paper.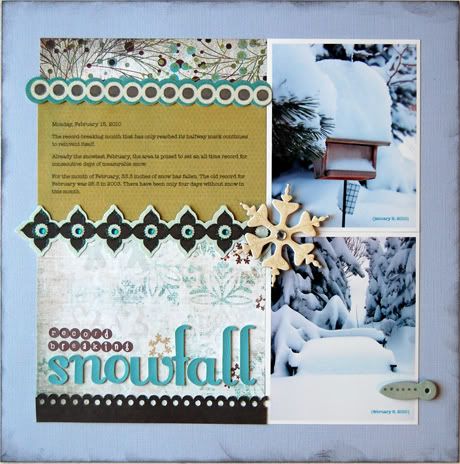 For the journaling, I took an online article from the paper and printed the stats on my green paper. Thought I should record this "record breaking snowfall".
Here's a close up:
Today is the day!! I am going to MIKES! I hope they still have a cart that I'll want... how many people in my little town do you think own a Slice??? I hope I'm the only one! LOL!