What do you make when you haven't shopped for days, and all you have are over ripe bananas and potatoes?
You make banana cake and potato soup!
Ok, we have other stuff, but it's Ash Wednesday, and we don't eat meat on Ash Wednesday, so this recipe is completely meatless and totally delicious! I'm so very happy with it!
I just used what I had on hand... and it turned out sooooo good. Seriously! Just look!
I wing things a lot when I'm cooking... a little of this, a little of that, give 'er a taste.... and sometimes I really wish I would have written it down. Since this was sooo yummy, I thought what better place to write it than on my blog. I can easily find it here!
Pantry Potato Soup
4-6 med sized potatoes, boiled, (reserve 2 cups of the water)
2 cups of potato water (from above)
1 can of condensed milk
1 rib of celery
1 medium onion
1 clove of garlic
salt
pepper
2 chicken bouillon cubes
1/4 cup butter
flour
1/3 cup of sour cream
1/2 cup regular milk
Garnish: cheese, bacon, croutons... whatever you'd like
Step 1
Boil the potatoes until tender. Make sure to salt the water well. Drain, reserving 2 cups of the liquid. Cover, set potatoes aside. To the liquid add 2 bouillon cubes. Let them melt.
Step 2
Chop up onion, garlic and celery, add to melted butter in your pan. Sprinkle with salt and pepper and saute in the butter until tender and onions are translucent. I used my big ol' cast iron skillet, 'cause it's my favorite pot!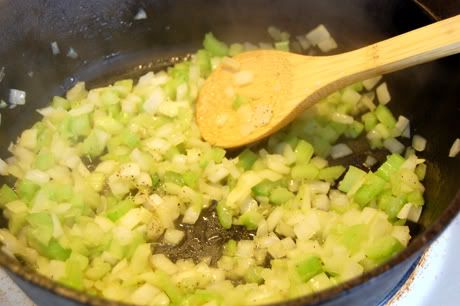 Step 3
Add the reserved potato liquid and bouillon, bring to simmer. Simmer for 5-10 minutes until the celery is tender.
Meanwhile, take an old fashioned potato masher and mashed the potatoes about 4-5 times, just enough to break them up. You still want some chunks. Set aside.
Step 4
Make a flour slurry by adding some flour to water, then add this to the cooking mixture. It will thicken a bit. Immediately add the can of condensed milk. Stir. Add the regular milk and stir. Now add half of the cooked potatoes.
Step 5
Mix... with an immersion blender if you have one. If not, use a regular blender, but be careful.
Step 6
Now add the remaining potatoes and the sour cream to the pot along with the blended portion, and warm it up on low temp.
While the soup is warming, you can get your toppings ready. We made these delicious croutons from some homemade bread my husband made. He loves to bake bread.... yes,
I am
a lucky girl!
Enjoy!!
I need to taste test the banana cake, but it sure smells good! Just waiting for it to get cool enough to frost with cream cheese icing. YUM!
Well, what else can you do when you're snowed in (again), but sit around, cook, eat and get fat until spring???
Have a beautiful day!