Picture this... Thursday afternoon, Walmart, cart full o' groceries... I just need one more thing, ink for my printer... black and yellow. I have an HP Photosmart with 6 cartridges. I go back to the electronics department and make a "b" line for the ink. Aha, there it is... ink #2 in black. It's $20 just for the black, and the yellow is $10, that's $30.... hmmmm, but wait, there's a box below it for $30, a combo pack with the black, plus the dark cyan, yellow and dark magenta. Cool... I grab the box... saunter over to my husband to tell him how clever I am...
"hey, who would pay $20 just for black, when I can get all four cartridges for $30!"
Very pleased with myself, I pay for it in electronics, then proceed to the front to pay for the groceries.
Fast forward to Sunday afternoon. I'm printing photos for a scrapbook page. 2 come out, then the little message pops up that I need to replace my black ink cart... I grab the new ink, open the side of the box, and "uh oh".... this doesn't feel like the right size....
Nope...
I picked up the #21/#22 ink carts.
Dang.
And I had been so smug!
I hate when that happens!

I did manage to go to Michael's to take advantage of their 40% off MM Slice stuff. I got 2 cards and the spatula. I wish I would have saved my money on the spatula. My Xacto blade works much better. (but it is really cute)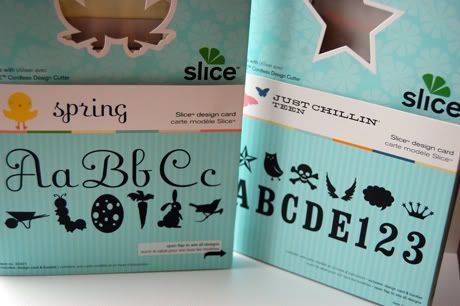 I chose Spring and Just Chillin' Teen. I was aiming to get something that was versatile. They both have some fun shapes.
Had a happy mail day last week. I joined in the CHA chat over at 2 Peas, and won the Bella Boulevard prize. I've never had any Bella Blvd. product before, and was pleasantly surprised. I really like it. The kit had tons of paper, sticker sheets and some journaling blocks.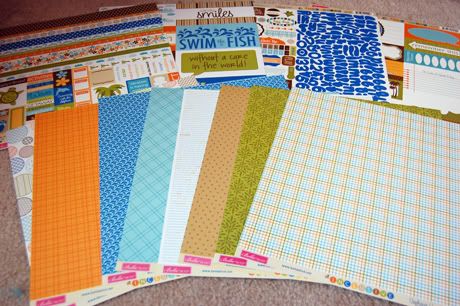 I did manage to do a little bit of creating. I haven't finished my layout yet, but I did 2 cards. I played with my new Slice cards on these.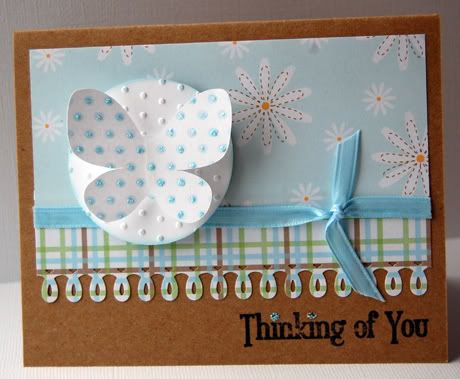 I also used the Martha Stewart Loopy punch. Love that thing! I think the loopy punch kinda looks like candles on the top one.
I guess I am forced to go back to Walmart to return my ink. I'm just glad I didn't tear into the box and mutilate it! Just a few glue dots and it will be as good as new.
Have

a

crafty

day!!