The snow, that is. Enough already!! Now we are to get another 6-12 on top of the 24+ that we have. This is crazy stuff, I tell you!!
The kids did not have school. I think it might be because there wasn't any electric for 22 hours on that end of town. We were spared, and ours only flickered for a few hours.
Here's a picture of what we have so far. We are buried!
The temperature dropped, so that snow isn't going anywhere. I just hope that I can make it to chemo and back on Wednesday before all the snow falls... then after that, it can snow. I'm so close to being done, so I don't want to miss any.
Here's a card I made for my mother in laws birthday. I used the Martha Stewart Loopy Punch on it. This card came together pretty quickly.
Close up: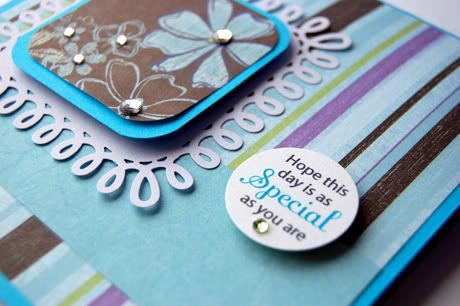 I used some
really old
paper!
I know a lot of you are in the same boat as me. Well, I guess if we get snowed in, we can always scrap away the days.
Have

a

great

day!!