Well, my surgery is scheduled for tomorrow.... I am to be at the hospital at 10 am. I'm pretty calm about it, and in a way excited to get this thing out of me. I just talked to a friend who had a double mastectomy 2 weeks ago, and she feels great. I hope mine goes as well. I'm just doing the bad boob right now.
Anyway... I did a couple layouts last weekend, and I have another one to share with you. This one was also for a challenge on Serendipity Scrapbooks.
I was going to journal around the paper block but haven't gotten around to it yet.
Here's a couple close ups: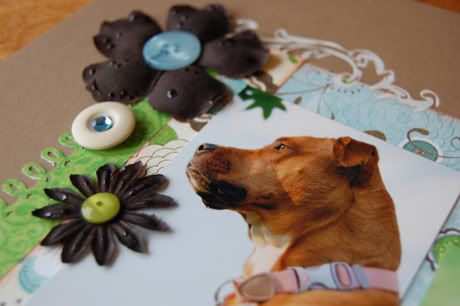 I put some glossy accents on the flowers to look like rain drops, just for the heck of it!
We had to use 4 rub ons for the challenge... now I know why I don't use rub ons too often! Can you say pita?? LOL!
That's about it for today. I hope to blog next week. I'm only in the hospital one night after surgery, then I get to go home... which is fine with me because it's hard to sleep in the hospital, so noisy and people waking you up and pokin' ya in the middle of the night.... geez!
Have a great Easter if you're celebrating.
Enjoy your family this weekend.