I scrapped! It's been a while, but it sure felt good to get back into it. I'm feeling much better, so that always helps. This by far isn't my favorite layout ever, but I like it, and it got me scrapping.
There's a sketch contest over at
Pink Paislee
, so I thought what better way to kick start my mojo. I took their sketch and used all their products - aside from the one cut out, it's K&CO, and came up with this layout.
I didn't really feel like scrapping people, so I did simple pleasures.... and mine is making tea. I don't microwave it, I put a kettle on the stove and wait for it to boil. There's something relaxing about doing all that... pouring the water into the kettle, turning on the stove, getting your cup, choosing what kind of tea, waiting for it to brew... granted it only takes 5 minutes, but it's a mini getaway.
Now, don't get me wrong, I love my coffee, but sometimes a light tea is nice with a little cookie in the mid afternoon.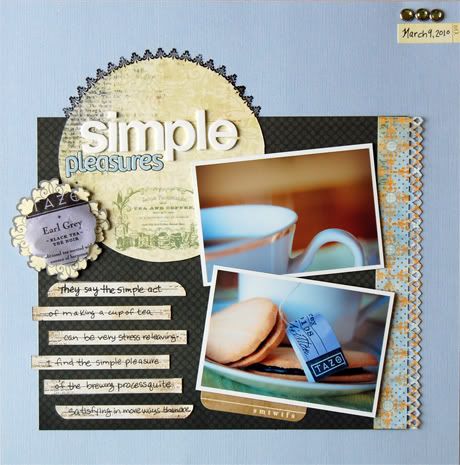 What I do like about this layout is that I tried something different with the rub-ons. The rub-ons are from the Pink Paislee Amber Road collection. The one had tea & coffee on it, so it was perfect. BUT, what I did a little different was I took those little tiny fluer de lis that were in a row, and I put them in a circle around my title circle. It just kinda of pulled everything together.
Here's a close up of the actual tea bag package. I cut it out in a little scalloped edge circle, then pop-dotted it on top of the K&Co shaped tag.
Here's one of the photos that I used. I just loved taking this shot. I was so happy with how it turned out.
I only ate one cookie, by the way! I've lost 4 pounds since last week. The chemo and steroids made me gain weight, so I have 16 or so more pounds to go.
I also had fun shooting this photo today. This is a tiny little scoop from Bath & Body. It only measures about an inch across. I used 3 stacked close-up lenses to shoot it. The sun was shining thru the window and hitting the salt, it looked so pretty... and smelled good, too!
That's about it for today.
Hope you can have a creative day!