I'm doing pretty good with my last treatment, pretty much the same as the time before that. Of course, Saturday is my bad day, so I'll be resting up tomorrow. But, other than that, I'm in high spirits knowing that was the last chemo treatment. Woot!!
My hair started to grow back, about 9 weeks ago. It's quite funny, it's about as long as Matt Lauer's from the Today Show! Ha! Sportin' a Sinead O'Conner kind of look. As soon as it's about as long as Jamie Curtis' hair, I think I will go wigless. She's got a better face for it than me, mine is kinda chubby.
Anyhoo ~ yesterday my friend Gloria pointed out that I was featured on the new CK Board. That was a nice surprise! It's actually on the CK Board Blog,
click here for link
.
I'm the 5th one down! Pretty nice surprise. My friend
Joscie
is also on there, couple down from me! Go Joscie!!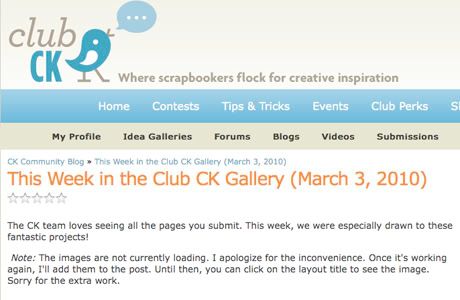 This was the layout... the photos weren't showing up yesterday on the link, but they are today.
That made my day! Love little surprises... unless it's one left from your little black pug on the carpet in front of the fireplace... not too keen on those kind!
Have a great weekend!!
Hope you have some good surprises!!