Happy Monday!
I know, how can I be this chipper on a Monday? Crazy, huh?
BECAUSE - -
I got my scrap on this weekend!
Nothing like some scrappy therapy!
This is my favorite layout that I did. It's just one of those layouts where everything worked out, the design, the colors, the elements... makes me happy.
The banner is from Martha Stewart that I picked up at Big Lots. It worked out perfect. I did this layout for a crop that was going on at
Serendipity Scrapbooks
. I order from them, and I love their board. The girls are so nice.
Here's the crop blinkie, all the challenges related to the Food Network, which I happen to be addicted to!
And, my layout for the menu challenge, 5 ingredient fix:
A couple of close ups: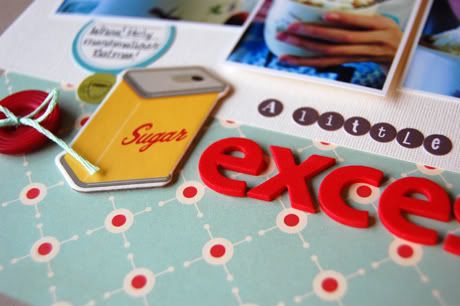 Journaling (it's funny):
Whoa! Holy marshmallows Batman!
A little hot cocoa with the marshmallows?
Hope you have a happy Monday!!
Thanks for stopping by, I really appreciate it!!