I don't know why I don't like the color purple... might be that whole Barney thing back when Emma was a baby, but I just don't like purple. I like purple things, like lilacs and grapes, but as far as using purple in my home decor, art or my layouts, nope, it's not gonna happen....
UNTIL now! I think I might be a convert!
I went to my LSS
Art Tech
on Saturday and met
Debbie
there. We shopped and I also got in touch with the owner who wanted me to do a few layouts. She wanted me to work with this Bobunny Jazmyne line.
I ended up just loving this layout, purple and all: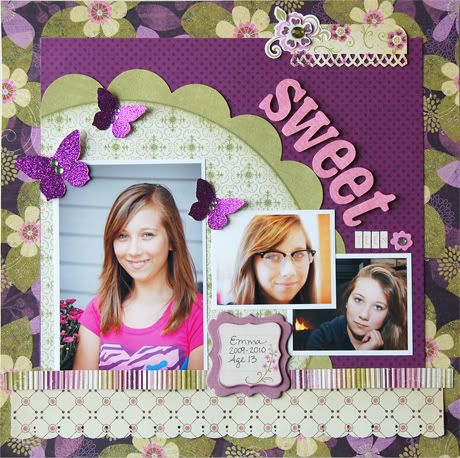 Here are a couple of close ups:
Used my Slice to cut these butterflies out of this pretty glitter paper, and also the letters below:
My sweet teen went to the Ohio State football game on Saturday with her friend. When she came home, she announced that is where she wants to go to college. I said what's wrong with Penn State or Pitt? LOL! I'd actually prefer her to go to Seton Hill College or Saint Vincent. Both have great art degrees and are within driving distance! ;)
Have

a

great

day!