If anyone has or had a daughter in Daisy Scouts or Girl Scouts or have been a Girl Scout yourself, you might know the Girl Scout song...
"make new friends, but keep the old, one is silver and the other gold."
Well, my daughter insisted that the song was,
"make new friends, bikini in the old..."
My husband and I would just laugh and laugh. 7 years later and she's still a funny girl.
I used the Bikini in my title for this layout. How cute are these little 6 year olds? In a blink of an eye I now have a teenager! When did that happen??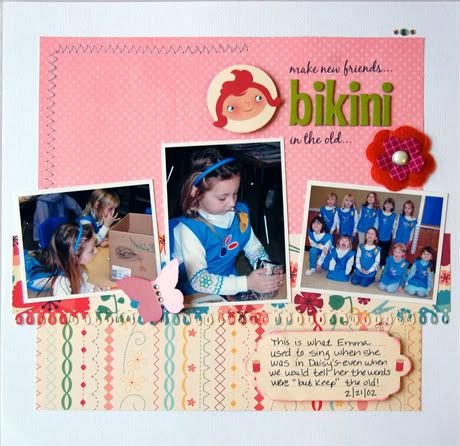 I used the new Cosmo Cricket papers Material Girl. Fun stuff.
Here are a couple close ups: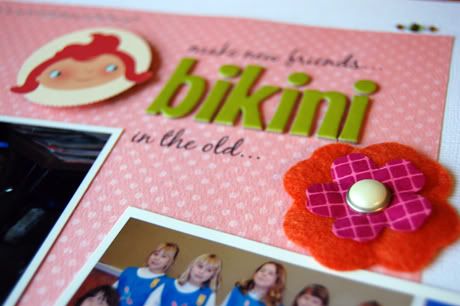 I ran my pink polka dot Bo Bunny cardstock thru my printer to get the black part of the title on, then I adhered the Thickers.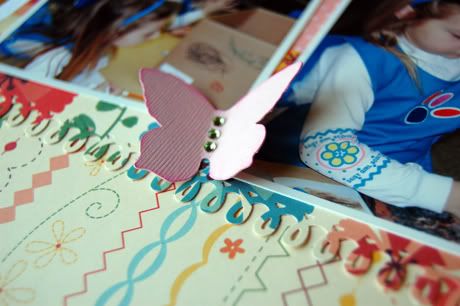 The butterfly I cut out using my Slice (we are still having a hot and heavy love affair!) and my Martha Stewart loopy punch (coming in at a close second as my other fav!).
Since I can't quite move my left arm, I've been working on some digi projects. Then it hit me.... why not do 8 1/2 x 11 digi? I mean, I can print that out at home. I don't know why I didn't think of this earlier! I have all these digi layouts that are just stuck in my computer, but now, if I do them 8 1/2 x 11, I can print them!
(Can you see the light bulb glowing above my head? It's an energy star one, so it takes a while to light up! lol!)
BC Surgery Update....
Well, it has been 4 full days since my surgery. I feel OK. I slept A LOT over the weekend. Pain meds will do that to you. I tried to tough it out yesterday and only took 1 pill before bed, but had all these weird feelings in my arm and chest... not necessarily pain, but I guess all the nerves are cut, and I get these little zings like you hit your funny bone. Very weird. The hardest thing was taking a shower. Also getting dressed, since I can't lift my arm up, that was kinda tough. But, other than that, I'm OK. The incision feels really tight, but I'm sure it will feel more normal in time. I just hope that my pathology results come back negative. Please, please, please.
Scary stuff.
Today I see a home health nurse, and tomorrow I will see the surgeon. I'm hoping she will take out this drain. Very strange little thing and quite annoying, I must say.
Other than that, I feel pretty good. I'd like to take a walk, and it's sooo pretty out. I probably won't make it far. Sometimes I feel like a 40 year old inside an 80 year old body!
This too shall pass.
Have a wonderful day.
Take time to stop and smell the roses, or tulips, or heck, even the coffee!! ;)